14
10
Joined Oct 28, 2017
Smoking in North Georgia
New here but not to the allure of mixing smoke and food. The grilling, smoking and cooking resume in the Smokehowze family is based on a long history of voice of experience learning and on-going knowledge seeking and spans a wide international food experience base.
Always considered SMF a great source of information and ideas.
As I focus more on expanding my sausage making and meat curing (5 years + of serious and great sausage and cured meats), this is a new place to start actively hanging out. Always more and different meat adventures yet to be tackled when work and travel does not get in the way.
Besides my stable of gas, electric, and Kamado grilling, smoking and seafood boiling equipment, one of my on-going pet projects is converting cast off electric kitchen ovens into quality smokers that operate on 120 volts utilizing various external temperature controllers as the heat can be easily kept in any desired range below the 170 degree fat melt cutoff. Or even up to 275 for other meat smoking if desired. All you need is a good lower heating element in the oven itself, your idea of how a smoker ought to work for air flow and such and some mechanical skills and basic electrical knowledge. Too many pounds of sausage, jerky and other charcuterie to count have been smoked in my various oven conversions. As well as using them on occasion as dehydrators.
A few photos of my current conversion. Mrs. Smokehowze named this one the 'Johnny Smoker'. I think you can figure out why. :D:D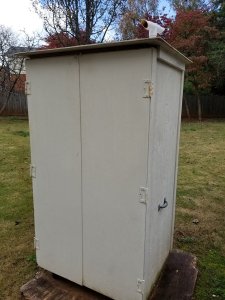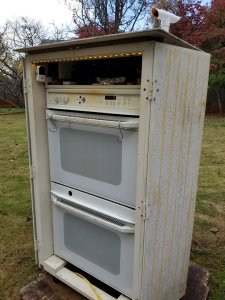 Normally the door/window is smoked over. I had a major slip with my grease pan after a long smoke and wound up needing to do a good cleaning. So the window got transparent again (for a short while). LoL
A nice fall smoking day.