Fire Starter
SMF Premier Member
I have been wanting to try this for about ten years. I see many people refer to these as Disneyland legs, but my only encounter was in Indianapolis at the Brickyard race, and saw a street vendor that had these, and they were incredible.
I called the local meat market and asked if they had any jumbo legs, and he had a case, so I bought six. I didn't think they were too bad, $1.49 lb and they averaged right around 2 lbs apiece. I put them in a 1.5 gallons of Pops brine, but doubled the Cure #1 as was referred to in another posters thread. The legs cured for three days, then into the fridge uncovered for one day. We had some friends over to the cabin on the 4th, so I thought that would be the perfect time.
The legs are on the smoker, temp set at 300, and you can see the light smoke rolling out. I would have used my
AMAZEN
tray, however that was back at home.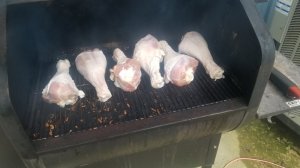 Two hrs later the legs are between 160-170 IT. It is not the picture, something supernatural, or a magic trick, there was six legs finished. However by the time I got the aluminum foil put away, I came back outside and my guests had already helped themselves to four of the six legs!!!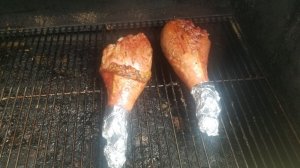 The legs turned out great, many compliments on the flavor, moist meat, and the overall experience as many have not had a cured turkey leg before. If, I guess I mean when I do this again, I would like to smoke longer first, then increase the smoker temp, as the smoke flavor was very minimal. Thanks for stopping by and another thumbs up to Pop's!