Master of the Pit
SMF Premier Member
3,850
1,362
Joined Aug 13, 2015
We had some nice weather in central Indiana the last few days and I couldn't wait to get out the Weber. First cook was wings but I'll touch on that later.
I had some Baby Backs thawed but wanted to try something more yesterday. I had a package of trimmings from my last batch of bacon and wanted to do something with it.
I decided to cut into small strips and use the same rub and sauce as the ribs.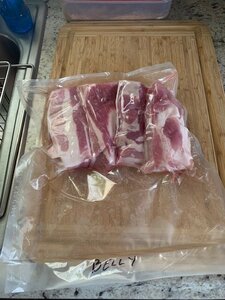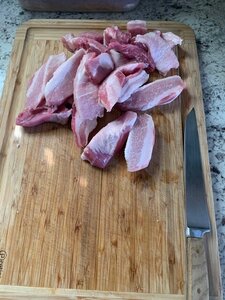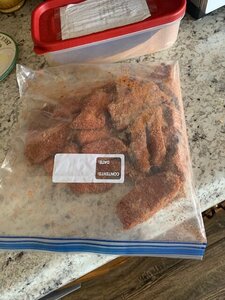 They went on with the ribs indirect with some Hickory chunks.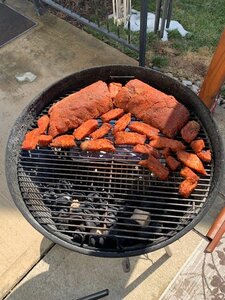 Cherry handles on the kettle courtesy of chopsaw :-)
After a couple of hours everything got foiled and cooked for another hour and a half or so. The belly fingers got sauced in the foil. The ribs just got a spritz of water.
After un-foiling and saucing the ribs I pulled the belly fingers off. They were done.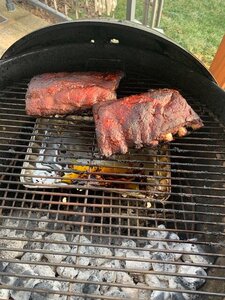 And tasty!
The ribs only needed another half hour or so. All done.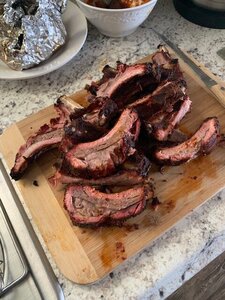 Bonus pics of my first cook of the year on Thursday....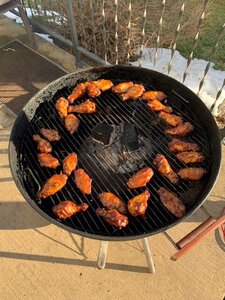 Sharing recipes for folks who like that (I do).
My pork rub:
1/4 cup brown sugar
1/4 cup Paprika
1/2 tbsp no-sodium salt substitute
2 tbsp course black pepper
2 tbsp garlic powder
2 tbsp onion powder
My BBQ sauce:
1 cup cider vinegar
2 cups Heinz "No Salt Added" ketchup
1-1/4 cup brown sugar
2 tsp garlic powder
1/2 tsp dry mustard
1 tsp lemon juice
1/2 tsp low sodium soy sauce
1 tsp no-sodium salt substitute
1 tsp coarse black pepper
1 tbsp paprika
1 tbsp ground horseradish
1 tsp crushed red pepper
Pineapple Turmeric glaze (for the wings):
1/2 cup pineapple juice (squeeze the juice from one of those little cans of chunks and you get almost exactly 1/2 cup of juice)
1/4 cup honey
1/4 cup rice vinegar
3 tbsp Dijon mustard
1 tsp crushed red pepper
1/2 tsp sesame oil
1/2 tsp ground turmeric
Bring to a simmer and go 'til it's reduced. About 15 minutes. Let cool.
Sorry for the lengthy post, but I"m bored today. Although March can be a Bitch, Spring's almost just around the corner boys and girls....
Dan
Last edited: