Fire Starter
Original poster
Over the weekend I decided to throw a piece of butt in the ol' smoker. Here's the journey. (This process comes courtesy of

Bearcarver
.)
Wife bought a 9# shoulder butt from Costco. I cut it down to smaller portions, seasoned them, vac sealed them, then threw them in the freezer. I took this 3# piece out of the freezer a few days prior and let it defrost in the fridge. On smoking day, I took the meat out of the vacuum bag and placed it on a wire rack in an aluminum pan keep the meat up out of the juices but still be able to collect them.
I turned the smoker on to 265* and let it warm up. Meanwhile, I ground some pellets in a coffee grinder I found at a thrift store, loaded my smoke tube, and lit it to get it started.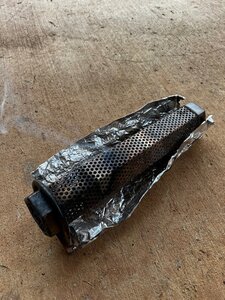 8:20:
I put the shoulder butt in the smoker, cleaned my probes, and stuck the meat in two different places. The starting IT of the meat was 29*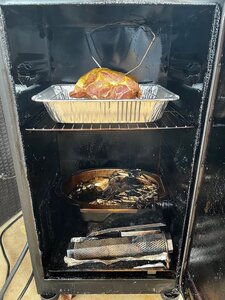 1:10:
IT was 165*. Poured about 1/4 cup of OJ in the pan and covered the meat and the pan with foil.
2:40:
IT was 192*. Removed meat from smoker, wrapped in foil and towels and placed in small cooler. I also collected the juices from the pan into a plastic container and stuck it in the fridge to solidify the fats.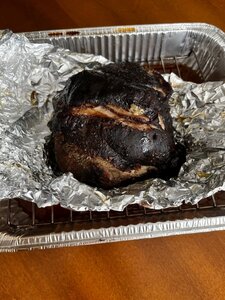 Around 6:00 it was time to eat.
Defated the juices from the fridge and warmed up the juice. Shredded the meat and used the juice to pour over it. It turned out to be a mighty fine meal. The meat was so good, I don't even remember what I served with it.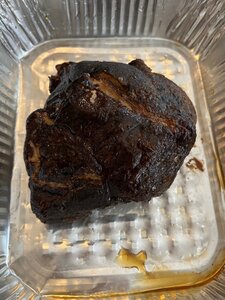 Thanks for looking, y'all.