Master of the Pit
OTBS Member
SMF Premier Member
2,322
2,693
Joined Dec 1, 2019
In a conversation a couple of months ago about porkstrami I tossed out the idea of using an injectable cure similar to the

daveomak
technique of making ham. Dave brought up the idea of using beer in the brine
. For this test run I combined Dave's ham injection technique with a cover brine to corn the pork. I started with a variation of Pop's Brine, then added 16 ounces of beer and really bumped up the aromatics and simmered for an hour or so. The brine was chilled overnight and then I added the Cure #1. Next, I calculated for an amount of brine equal to 10% of the weight of the meat, measured it into a shaker, and mixed in AmesPhos at the rate of 1.8 g/lb of meat. I used this liquid as my injection. The meat was bagged for 3 or 4 hours before adding it back to the brine. Curing time was 13 days. I rinsed, short soaked, dried and seasoned.... then let the roasts rest in the fridge for 15 hours or so.
I made 3 cross section roasts to increase the bark, and tied them for shape. Here they are after 13 days of corning, and after seasoning.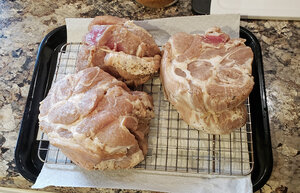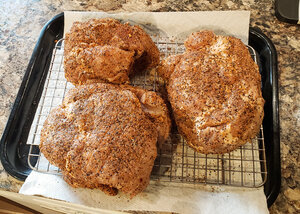 Ready for the BDS... low-n-slo for 3 or 4 hours with pecan and cherry, then my usual pressure finish like I use on pastrami.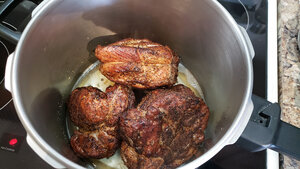 I was going for a sliceable porkstrami, just like I do pastrami.... but I think pullable might have a place. Regardless, the bark really makes it.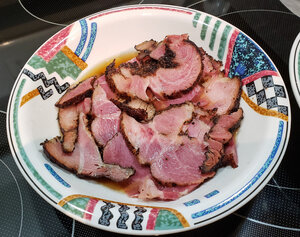 Here is what the porkstrami looks like chilled and sliced for a sandwich on sourdough.