Master of the Pit
Original poster
SMF Premier Member
I defrosted a pork shoulder to check out if the firmware for my GMG is working for a longer cook. I have a mesh network at my house and it was a problem. I am on a prototype firmware and had to see how it works for a longer cook.
I cut the shoulder into two pieces, I just wanted more surface area in the smoker. It is being cooked with cherry and smells very good.
At 3 hours we have this.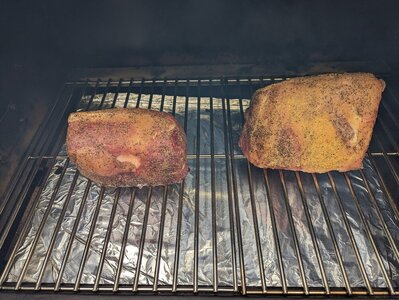 I really don't need that much pulled pork and wondered what the pitfalls would be if I pulled the smaller boneless section at say IT 145° and let it rest for 30 minutes and then refrigerate untill tomorrow to serve as a roast. I would of course have to heat it back up, is there any reason this won't be any good? The bone section will continue to smoke until probe tender for pulled pork.