Epic Pitmaster
Original poster
OTBS Member
★ Lifetime Premier ★
Dec 14, 2013
13,967
11,607
I've done this once before , but wanted to inject this time . I used 1/2 cup kosher salt , and then 1/2 cup each white and brown sugar . For the 1 gallon water , went with 2 tbls cure 1 this time , because I wanted a faster cure . Pumped , then in the brine 48 hours . Dried in fridge over night . I ended up doing this in the oven ,,, it's a long story . Anyway ,,
All pumped , then in the bucket .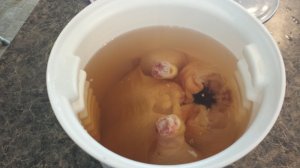 I really like the Briner buckets .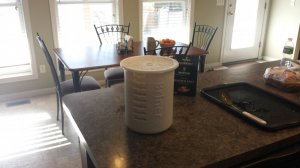 Dried over night
Just black pepper on the skin
Out of the oven ran over a little more than I wanted ,
but it didn't matter ,,, Note how dry the cutting
board is .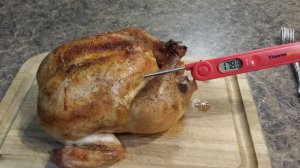 Cut into the leg joint ,,, Perfect !
Really good , so moist . Flavor was great for just the standard brine
and black pepper on the skin .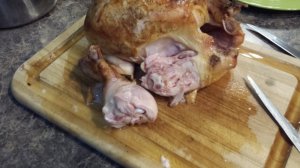 Got another thawing . Going to do Dave's veggie stock injection on that one .