Legendary Pitmaster
Original poster
OTBS Member
SMF Premier Member
Pineapple Jerk Ribs with Spicy Smoked Pineapple Rice
It was a great weekend to work around the yard to get some things cleaned up . Dug up lots of my flower gardens took out the bulbs etc . Packed a few big plants inside before the frost kills them. Put a couple of the boats away .
So I wanted ribs for supper tonight.
Put a rack of pork ribs in the smoker at 12:30 with just salt and pepper at 240 deg. With some Hickory pellets with 2 Mesquite chunks on them in the CI pan.
At 3:30 jumped up to 275 deg.. Kept an eye on it , also with my phone. Just peeked in at the Inkbird when ever I happened by the ``Smokers Shack``. Smells great .
Cooked up a bit of rice, than added pineapple tidbits , brown sugar, and Soya Sause, Mixed that up. Added some red onions and green onions mixed and into the smoker .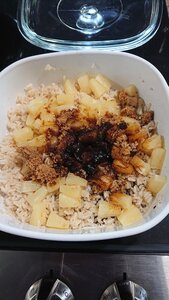 At around 4:30 I bumped it up to 350 deg. and added a sauce I have used and really like . VH Pineapple Jerk Sause. This can be used for a lot of things .
So cover the ribs with this on all sides . And again at about 5 pm added an other coat . and removed the rice . Inside to the rice I added diced tomatoes,
celery , radishes Serrano Chilies and chopped cilantro.
Pulled the ribs at 5:30 , nice color and real nice flavor.
Plated up with some tomatoes ,
good meal after a productive day around the yard. Rice picked up a good smoke flavor and a little bite from the Serrano Peppers and the radish
Thanks for looking , Hope all had a good weekend also
David