Epic Pitmaster
Original poster
OTBS Member
★ Lifetime Premier ★
Dec 14, 2013
15,117
13,375
Plans got switched up and we stayed home yesterday . So I did todays rib roast last night .
Sandwiches were requested , that's fine .
I use Alton Brown's method for cooking when I use the oven . I seasoned it up and sat over night in a plastic bag .
Roast starts in a Cold oven set to 225 . Cook to desired IT , then pull it out to rest .
Reset the oven to 500 / 550 . After the roast has rested , it goes back in the hot oven for 10 minutes . Pull and slice .
Used Kane's steak house . Local to St. Louis .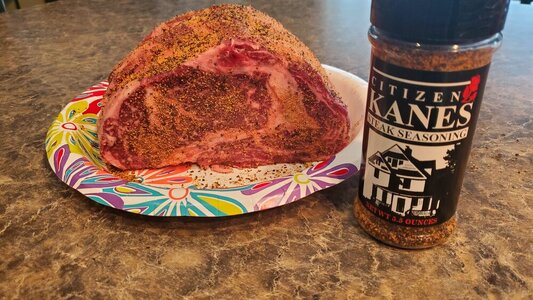 Out of the bag from the over night . Surprised to not see any liquid .
Long ride at 225 . I actually turned the oven down to 200 .
I think it was about 3 1/2 hours to reach 125 .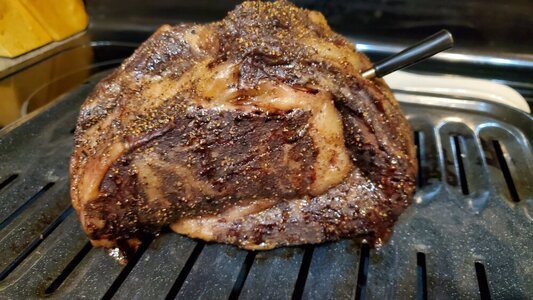 Oven set to 425 to cook the take and bake rolls while the roast
is resting .
Rolls done , oven bumped to 500 . Put the roast back in for 10 minutes .
Spun the pan 180 at the 5 minute mark .
Waiting to be sliced .
Cut up some stuff for toppings .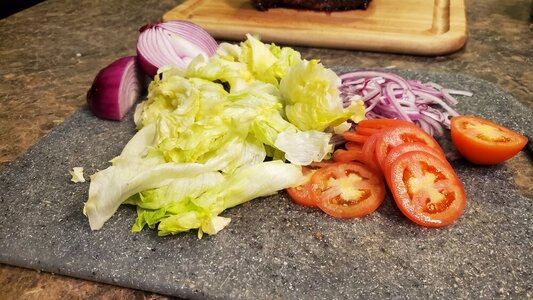 I don't have a good slicing knife , and figured I better leave my slicer covered up .
Final IT said 129 on the new wireless therm .
Blurry pic .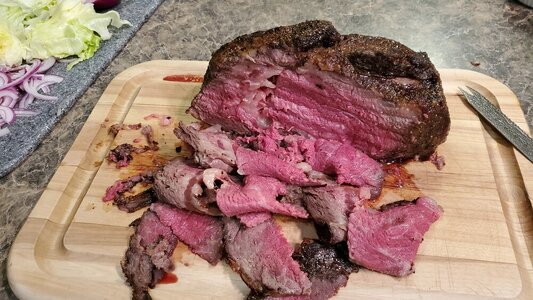 I put grated horseradish on the bottom bun .
Then started stacking .
Red onion
Lettuce and tomato . My Son made a spread from grated horseradish , Dukes mayo ,
green onion , chives , and some lime juice .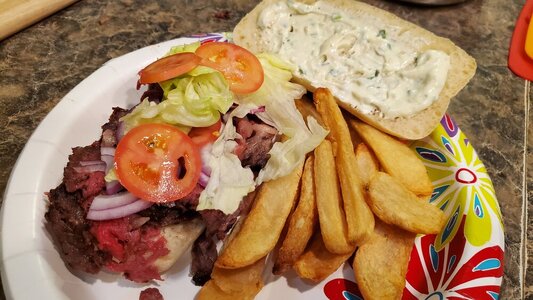 Closed 'er up .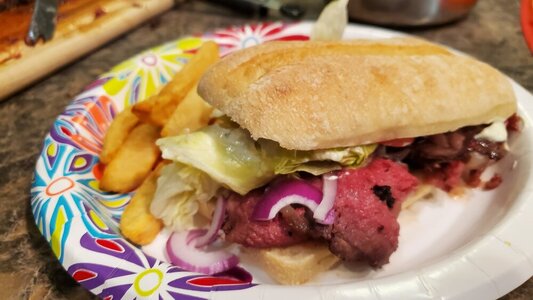 Cut pic really doesn't do it justice . Great flavor on the beef , and the horseradish is a must .
That sauce he made was great too . I had some Au jus from a jar .
Good meal . That's a great technique for the oven with any beef .
The outside had a nice crunch to it .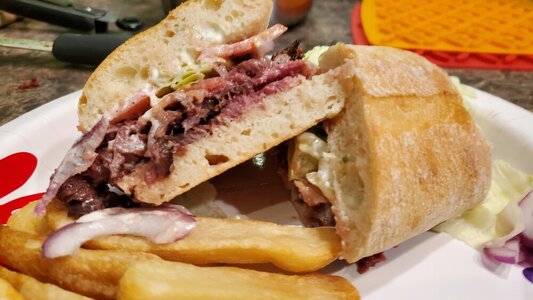 Thanks for lookin .