Legendary Pitmaster
Original poster
OTBS Member
SMF Premier Member
So I was asked to cook for the grandson's Wedding reception/Gender reveal/House warming party... He told me what all he had to cook and we decided to back it down a little...
10 FULL untrimmed slabs of spares (he had 12) these things were huge... 5 slabs of baby backs... and 3 pork butts (he had 4)... and 2 whole chickens ...
It was actually to full... It couldn't breath (draw)... But I just opened everything up wide open and let it eat ... It all worked out in the end and everything turned out perfect...
As many know.. I'm not one to take pictures.. So I had some sent to me.... these are a few they sent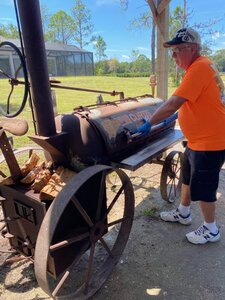 Some were done and removed at this point... I always use Smokin Al's method and take the internal temp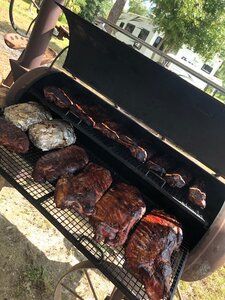 The 2 chickens went in my Mini
WSM
as beer can chickens... no pics of them ...