Master of the Pit
OTBS Member
SMF Premier Member
4,372
1,143
Joined Dec 13, 2017
OK, so if I wonder around enough, ideas come out of the mess.
I was looking around under my center equipment and spotted a metal box I had forgotten I had. A-HA!
So I pulled it out and looked it over. Doable!
So what this was, was a box for an old Craftsman router I had/have. I don't know if that first ever router is even still around, but the box is now a piece of my smoker.
Inside is a mounting that the router sat in, but it makes a perfect stand off for a chip burner. Just right for an
Amazen
pellet maze when I get one. But for now, I have a home groan SS pump strainer and an end cap of holy SS metal.
So since the smoker was running for some temperature tests anyway, I took the reassigned box out to see how it could stack up and be used.
So I got out the strainer, and figured out how to get it to fit the stand. (I have the damnedest luck, it fit great!) OK, will it burn pellets? Put a pile in the bottom of partly crushed, some regular, and some of the chunks out of the Applewood chip bag.
Then took my propane torch and fired that mother up!
And it worked great. While the thing was going anyway, I took the strainer out of the box and tried it directly in the smoker. Lots of smoke!
I took the box to my shop and put a 3/8" hole centered near the bottom front for air induction. Then put a 7/8" hole in the back up near the corner. The idea was to make a starting hole for when I could get some dryer vent hose.
I figured it would be easy to make more holes, but ugly to plug up too many.
I put the still smoking strainer back in the box and the holes seemed to work fine to keep the burn going, and the smoke flowing out the top. Darn, I wished I could get the smoke into the MES....
Well, I finally thought of removing the chip adder, and when I set my 'Mod' beside the MES, the smoke just flowed into the warm smoker. I adjusted one brick a bit and slid the smoke box close to the hole in the MES.
So Without a hose or pipe, I was able to induce almost all the smoke into the MES.
I love a little progress every day....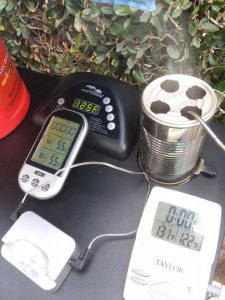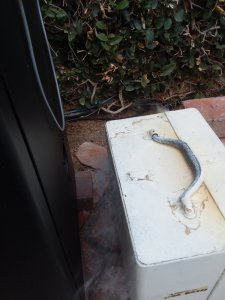 Last edited: