Smoking Guru
Original poster
★ Lifetime Premier ★
I picked up a 15# packer over a month ago but the weather didn't want to cooperate.
Finally got a window between heat and rain.
Trimmed it up and wound up with over 3# of fat. Drat!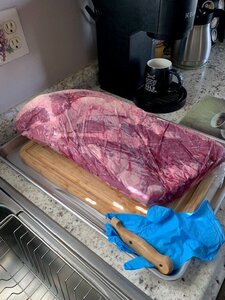 I was planning to grind the flat and just smoke the point but with so much trimmed out and a nice flat I just went with the whole thing.
I went with a dusting of Course Black Pepper only.
Got a fire going in Old Un-Trusty Rusty and it went in at 9:30am.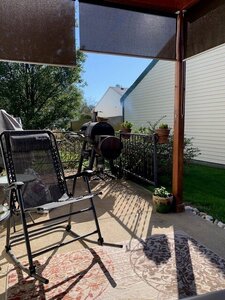 Now to just enjoy the fine day.
Once I had some coals I switched to Mesquite only.
Rusty wanted to meander between 250 and 290 but I didn't worry about it as long as I could keep TBS.
Funny but the flat started out almost 20 degrees higher than the point.
I'm thinking that even though I let it sit on the counter over an hour the point didn't warm up as much.
By 1:00 they started evening out and by 4:00 they were within a couple of degrees of each other.
When the point hit 180 I wrapped and after about an hour I wondered why I was wasting wood
so I moved it to the oven at 275.
At around 6:00 they temped at 203 and 205 and probed nice.
Let it rest for about a half hour and sliced.
The flat extended all the way under the point. Oh well.
Made for a nice dinner with a baked tater, slaw and a couple of smoked Marconis.
We'll be having brisket for dinner again tonight and there will be enough to vac-seal to last the 2 of us a few months.
This may be one of the last smokes for old Rusty. He needs a new firebox.
The logical thing to do is replace the firebox, but I have all winter to lobby for a new smoker ;-)
Thanks for looking and enjoy the better weather while you can!
Dan