Epic Pitmaster
OTBS Member
21,688
3,571
Joined Oct 4, 2012
Have been craving Mu Ping (Thai Grilled Pork Skewers). I happen to have a pork cushion thawing so that is what was for dinner. The
WSM
works great for this as these type of skewers work best not directly on the fire. For those that only have a grill you can set up a couple bricks on the grate and span the skewers between them.
For the marinade you will need the following (this is enough for 2-3 pounds) My cushion was around 1.5 pounds I still made the whole batch. I also marinated two chicken breasts for my wife since she wont eat pork.
You want to slice the meat into 1/4" thin by 1" +/- wide strips.
1/4 cup tightly packed, roughly chopped cilantro ( I used 1 1/2 tsp. of coriander powder)
6-8 cloves garlic minced or ground into paste
3 tablespoons palm or light brown sugar
2 tablespoon dark soy sauce (I never have this so I double the light soy)
2 tablespoons light soy sauce
1 tablespoon fish sauce
1 tablespoon oyster sauce
1 tablespoon (or more) gochujang or sambal olek or sriracha
1/2 teaspoon ground white pepper
1/2 teaspoon black pepper
1/2 cup coconut milk (reserve rest of can for basting). If milk has separated mix well prior to measuring out.
You can add other stuff to the marinade too. Lemon grass is nice, chopped jalapeno instead of hot sauce, lime juice.
Combine all of the above ingredients. Pour over meat, massage in and allow to marinate 4-24 hours.
Prep your pit. I ran the grate temp at 365°.
Thread strips of meat onto skewers. I used 8" wooden skewers. You want to thread the meat onto the skewer length wise. I insert the skewer every 1/2"-3/4" or so. Bunch meat up like an accordion and tight.
Place skewers on grill (offset if using a normal BBQ). For
WSM
top rack, no water bowl or diffuser.
Immediately baste top with coconut milk.
Every 3-5 minutes flip the meat and baste.
It doesn't take long for the meat to cook being so thin. I usually keep cooking until I run out of coconut milk to baste with. Meat always come out tender and juicy.
Didn't get any plated pics but we served it over an Asian inspired salad. Usually I'd serve it with rice.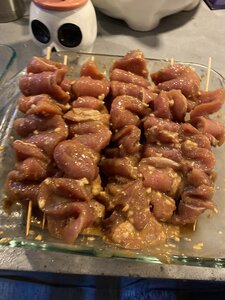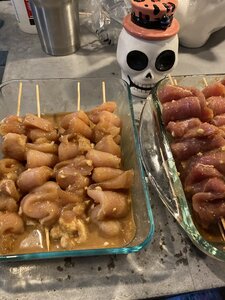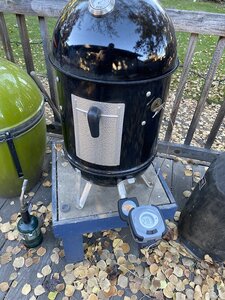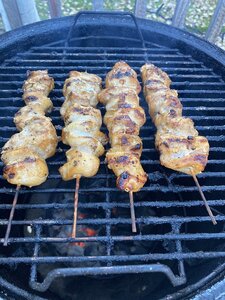 Chicken Done!
Pork on.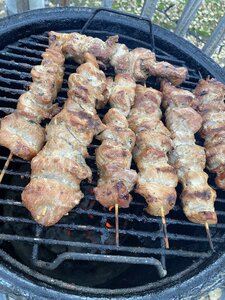 Pork Done!