I have what I believe is a gen 1 mes 30. I have had it a little over a year and all of a sudden was smoking one day and some smoke came from the back of the unit. After this the unit would never heat up again.
First I contacted Masterbuilt with no luck except they suggested buying a new heating element. This did not fix the issue so looking at this forum I found a few helpful articles.
So I read the article on the rewire for a 40" and then found an article very similar where the users also took the entire back off.
So after looking at the control board and not seeing any issues I thought I need to remove the back and after doing this I found this: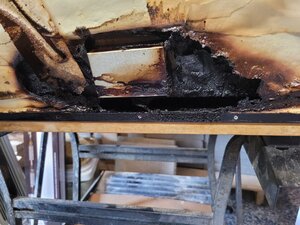 Where do I even begin??? I don't even know what is behind that melted tin box.
I really do not want to buy a new smoker nor spend a great deal on repairing something that barely lasted a year.
Thoughts?