Epic Pitmaster
OTBS Member
★ Lifetime Premier ★
11,144
7,726
Joined Dec 14, 2013
Ran out of Italian sausage , and had to buy some the other day . That's enough of that . So I ran out and got a couple pork butts .
I've been using a pre mix from TSM . Italian herb and cheese . It's good , but I wanted a sweet sausage so I went with the Marianski formula , and added to it a bit . I like some anise along with the fennel . He adds caraway in his , which I like , but I also add some ground ginger to it , and some Italian seasoning .
Came out really good . You can't go wrong using the Marianski recipes . I do this over at least 2 days , sometimes 3 .
First day de bone and cut into strips and cubes .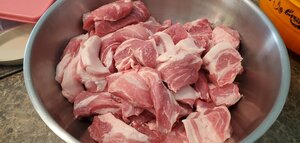 One grind through 1/4 " plate , then I do a loose mix to make sure the fat gets distributed evenly .
Divide and weigh each batch , then cover and in the fridge while I get the spice ready .
Next day after mixing and in the fridge over night .
getting ready to stuff .
Got my casing bucket out of the fridge . Stored wet , I reached in and pulled one out .
The last one . Good thing I only had 4 pounds .
Everything loaded up and ready to go .
Gonna be close .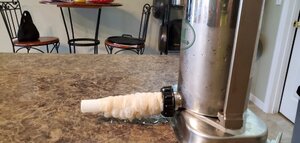 Got 15 links . Perfect amount . Be 3 suppers for use .
Just made it .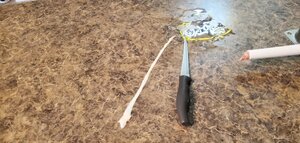 Since this had already been in the fridge overnight ,
I figured I'd keep 5 out for supper . The rest will be frozen in 2 batches of 5 .
I leave them linked up for this .
This is how I cook these . Gives great results . That's a good jarred sauce .
I use that or Rao's when we don't make it .
Little olive oil in the pan and just put some color on both sides .
This is to cook the casings , Not for looks . Keeps the casings from being chewy .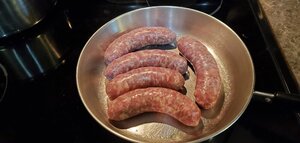 First flip .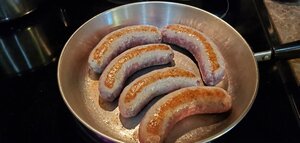 Then I flip again , and pour the sauce over , and
put the lid on . Just a simmer .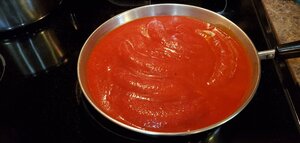 The sausage comes out perfect , and adds flavor to the sauce .
Had some fresh Italian bread and a salad to go with it .
Just a simple plate , but really good eats .
Way better than store bought .