Smoking Guru
Original poster
OTBS Member
SMF Premier Member
Been using
the kettle
/SV a lot lately. Seeing all the ribs and PP you folks been posting I decided it was time to fire up the MB.
Found a smallish butt (5 lbs) at the store. Got some BB to go with it and dug a 2 bone beef back ribs out of the freezer. Seasoned the beef ribs with a SPOG mix the butt and ribs all had Heath Riles BBQ rub.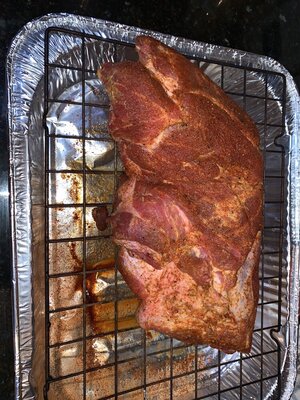 Trimmed and seasoned up.
Cooker loaded up.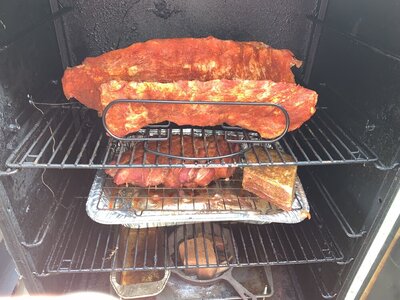 Running around 250 degrees with a chink of cherry smoking away in the CI.
Did a modified Dutches beans with peaches a la

TNJAKE
.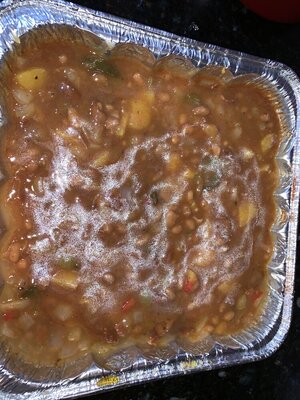 And here is where things went awry! I'm chilling drinking a glass of tea. Smoker is doing its thing. And I get a call from Bryces football trainer. He's injured his ankle at practice. So off I go to take him to ortho. Lesa is watching the cooker for me. I'm watching the butt temps via the InkBird app.
Thinks went a little long times wise. The ribs were good but over cooked. The butt was also good. And the beans were excellent!
Good news was…no ankle fracture, but a bad sprain. Ortho boot for two weeks and need to be cleared by PT. First game is in 3 weeks. He's chomping at the bit to get out there.
No cut, pulled or plated pics on this one. Was just glad to get home and eat.
Also did 3 hams for ladies at work. One with a honey ham rub and two with a savory rub of spices.
Took them to a IT of 140 degrees over cherry wood also.
Not one of my best cooks. But it was all edible. Just not to my liking. Win some lose some I guess.
Thanks for reading this far.
Jim