Fire Starter
Original poster
My wife took her Dad who is a Vietnam Veteran on the Honor Flight to Washington DC. The plane was delayed for mechanical repairs (always makes you feel good). So far 3467 vets from WI have gone to visit the memorials since it was started. This flight was its 36th and was the first time all branches of service were represented. To all the vets I am thankful for your service.
I started out the day thinking at about 20 minutes a Lb on a scant 16Lb bird I was going to be cooking about 5 1/2 hrs. Patted the skin dry and let it sit on the counter for 1/2 hr. Rubbed some EVOO on the skin and seasoned it with some Weber Kick'n Chicken and some Hard Eight signature seasonings. Fired up the Grill until it was at 350deg F.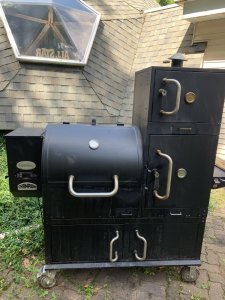 Put my ThermoPro probe hanging in the air so I could double check what the grill was reading. Within 5 deg F so that works for me. Put the bird on and after an hour it was looking good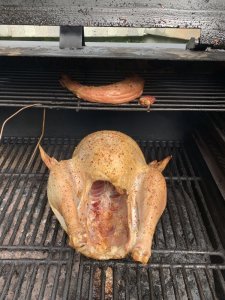 Had the neck and heart for a little chefs treat early in the cook. After 2.5 hours I decided to put the 2nd probe in the breast. 130 already so I knew I didn't need another 2.5 hours. So I took the first probe and put it in the thigh. Both probe were at 160deg F and climbing when I pulled them out.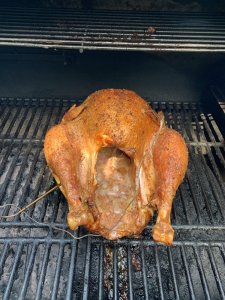 Covered the bird in foil and let it rest for almost an hour. Took a wing and thigh off and took a few slices of breast off. Juicy and delicious is all I can say.