Legendary Pitmaster
OTBS Member
SMF Premier Member
★ Lifetime Premier ★
7,880
4,252
Joined Dec 14, 2013
Recent thread by
S
Smokin' Penguin
" peppered dried beef " caught my eye . Decided to give it a try . So I took some trim from the beef knuckle I posted and gave it a shot .
Trim weighed out at 1 pound . I used 1 tablespoon of Morton's Tender quick , 1 Tablespoon of brown sugar , and some cracked black pepper . Everything in the bag and in a 36 degree fridge for 6 days . Day 6 I took it out of the bag and rinsed it off . I never need to soak the TQ , because I use the correct amount .
Dried off , on a rack and back in the fridge over night .
Next morning I set the MES 30 to 250 and ran it EMPTY for 1 hour .
Strips out of the fridge . Coat with fresh ground black pepper . Leave on counter to warm up .
After the burn off ,
Turn smoker off and let the heat out .
Reset the smoker to 110 .
Add the strips to the smoker .
Filled the 12" tube with hickory pellets . Got it burning good and put in mailbox .
Ran 4 hours at 110 then bumped to 160 for 2 hours .
Meat IT was 140 after the 2 hours at 160 .
Turned heat back to 140 and let the smoke run out .
Let it cool , then in the fridge over night .
Came out pretty good , I'll be doing this again .
1 pound of beef knuckle strips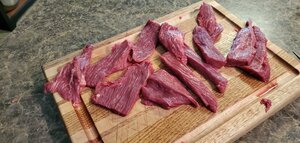 Cure , sugar pepper and the meat mixed in the bag for curing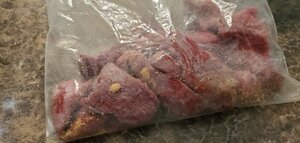 Warming up , coated with black pepper .
Fresh out of the smoker .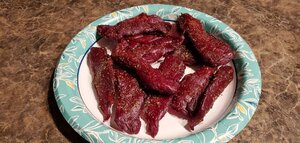 Close up . Took some nice color .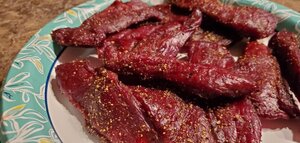 Inside .
So
S
Smokin' Penguin
you asked about doing this . This is just how I did it . Was a first for me . The store bought stuff is most likely pressure cooked with liquid smoke added . Not as tender as the store bought but it's really good . Just have to know where to take a bite . Lol .