Meat Mopper
Original poster
Someone was asking for Jimmy Dean clones, I thought I posted this here, but I posted it on meatgistics.waltons.com on 7Oct22. Here is a copy paste so I can link to it.
Chasing a recipe and testing is like an adventure and detective story for me, I love the process... so this post is mostly about the recipe replication and testing process. SKIP TO BOTTOM FOR RECIPE if you don't want to read about culinary sleuthing ;)
This is a pretty darn close rendition, but of course not perfect. We always ate JD regular, or Hot, or Sage. JD actually has Original, Regular, Hot, Sage, Maple, All Natural, Country Mild, Italian, and Reduced Fat breakfast sausage! For starters, these are fairly different, so when some folks think of "Jimmy Dean" they may be having thoughts of a different one, and so the taste of this won't match. I bought Original Patties, Regular, Sage, and Hot and tasted them all for differences, even Original and Regular were noticeably different. And when I had my family taste test small pieces, they would often say things like, "Not as much sage as JD," but then I'd give them a piece of JD regular, and it turns out they would be remembering JD Sage, and mine had more sage than regular but less than Sage. So the taste memory is a peculiar thing, and only side by side blind tests are really accurate.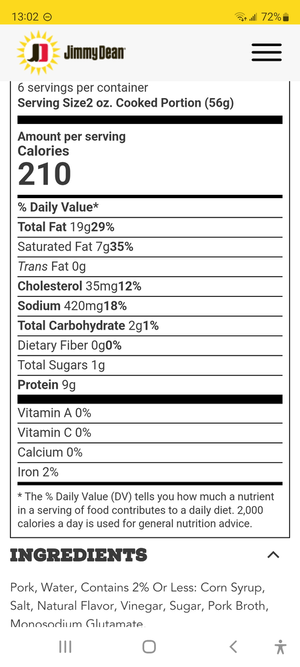 I always start with the actual product nutrition label. Ten or more diet and nutrition sites showed slightly varying salt and fat content for Jimmy Dean Regular Premium Pork Sausage, so you can't trust the first one you find on the web. So I went with the actual label picture and product page at jimmydean dot com.
This gives us our big parameters: fat is 34%, 19g out of 56g serving. And salt is 1.975%, converting from sodium content molal weights to salt. However, MSG is listed as lowest amount ingredient, and looking at normal usage amounts and sodium content, I arrive at 1.8 to 1.9% salt content.
Ingredients lists must be in order largest to smallest amounts. Corn syrup is listed as <2%, but above salt, so we can figure 1.8 to 1.99%.
Other pictures, and elsewhere on JD site, it lists ingredients as:
Pork, Water, Contains 2% Or Less: Pork Broth, Corn Syrup, Salt, Spices, Vinegar, Sugar, Monosodium Glutamate, Spice Extractives, Natural Flavor.
So spices and spice extractives are in there, but current labels have grouped them under Natural Flavors due to USFDA labeling laws.
Looked at a ton of recipes from web. Read thousands of comments from makers on what they thought of recipes. Several anecdotes from JD workers and articles let me rule out garlic. Converted them all to standardized units by test weighing all ingredients numerous times, replacing T and t with grams, and converting it all to 1kg meat recipe. Put in spreadsheet. Looked at all ingredients and their ranges to get a feel for what ingredients were consistently there and in what range of amounts, and what ingredients were one-off spoofer data. Some sources: Alton Brown was my first attempt, definitely off. Bobby Flay. TheSpruceEats, AllRecipes, SMF forums, 5 YouTube famous guys, etc. Of course Marianski and Kutas. Ended up with 14 recipes that didn't get tossed out for comments.
Here is a picture from Mar22 of my first comparison between Alton Brown, Marianski, Rytek Kutas, and my first 2 versions, pre-spreadsheet. This is for if you'd like to see these "Big 3" experts ingredients compared.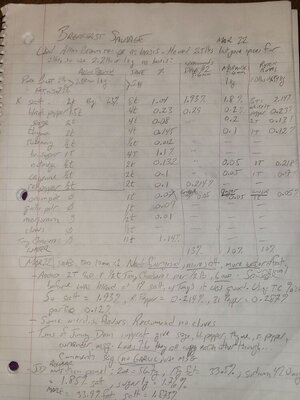 I ended up making a bunch of small, 100g test batches. There were so many ingredients, some recipes had 14, that I had to make many small tests. I got the main ingredients in, then would punch off a piece and add a tiny bit of say clove, fry it, taste test to decide if it was valid.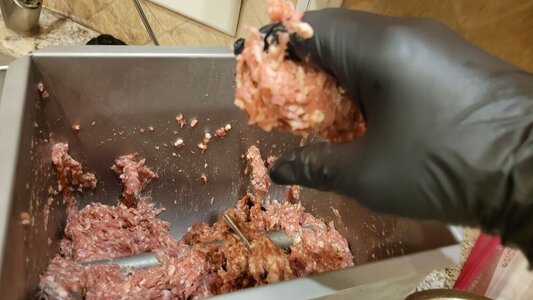 -----RECIPE--------
You can tweak ingredients to whatever you like, but this will get you very close in the ball park of correct JD flavor. It turns out my family likes a bit more sage than JD regular, but not as much as Sage; and a bit more heat then Regular, bit not as much as Hot. So sage and redpepper are tweaked up in my version. For Sage style, you can double the sage amount and cut redpepper in half. For hot, increase redpepper 50-100%. For Maple, cut redpepper in half and add 1/8 to 1/4 t McCormacks Imitation Maple flavor.
Here are some main flavor notes from a ton of tasting that will help:
1. 20% fat doesn't cut it. JD uses 33.9%.
2. Low water tastes dense and heavy next to JD. Use 10% at least, and slightly more isn't bad.
3. The key ingredients are salt, black pepper, sage, thyme, nutmeg, ginger. Missing any one of them it doesn't taste right. Red Pepper for Hot.
4. JD uses MSG. You can skip it, but 1-2g improves taste
**Dave in AZ clone of Jimmy Dean Regular**
1000g Pork Butt + pork fat to 34%
---I use 900g shoulder/butt plus 100g butt fat
Salt 1.8%, 18g
Black pepper 0.25%, 2.5g
Sage, rubbed or powder 0.15%, 1.5g
Thyme, powder 0.12%, 1.2g
Nutmeg 0.13%, 1.3g
Rep pepper flakes, ground up fine 0.2%, 2g
Ginger, powder 0.05%, 0.5g
Ice Water 10%, 100g
OPTIONAL:
1. Vinegar 10ml or 1%, about 2t. JD uses, I didn't like.
2. Sugar/corn syrup 1.9%, 19g. JD uses, but seemed too sweet in all but Maple Version. Made sausages burn easier. Use for Maple version.
3. MSG 0.1%, 1g. I liked this better and use it.
Production Notes:
---6mm- or 8mm grind, not smaller
---Mix to light-med protein extraction else crumbly.
---use 0.3% or 3g sage for Sage version
---double red pepper or add 0.2% cayenne for Hot version
---remove red pepper, add 19g sugar plus 1/8t maple flavor OR 19g maple syrup, for Maple version
--- JD uses vinegar, meh...
---makes 1.1kg or 2.42 lbs
Hope this recipe is useful for you, and at least gets you in the ballpark for something you make your own and love! Enjoy;)