678
234
Joined May 3, 2011
My wife & her family are all from New Jersey and practically every time her relatives come west to Calif, they bring several rolls of tangy pork roll (a.k.a. "Taylor's Ham"). You cant get it out here so for my wife & sons, its a real treat. One can order online & have it mailed, but the shipping is killer ($$!). So.....I decided to give it a try. I know a number of members have used Len Poli's recipe so that's the one I used.
Onward.....
Got the pork. Ten pound batch so got plenty of pork shoulder plus 3 pounds of good hickory-smoked bacon; both well-chilled.
Not a lot of ingredients. Deviation from the recipe: I used ECA for the 'tang' rather than a culture.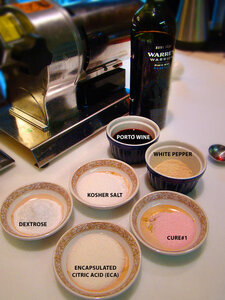 Ground the bacon with a fine plate (3mm); the 7 pounds of pork shoulder went through a 4.5mm plate.
Ingredients in & well-mixed.
What to stuff? I have a few synthetic casings on hand, but came across several never-been-used muslin bags I use when I roast coffee beans. The size of one is approximately the size of the Taylor hams. "Sweet Maria's" is where I buy my green coffee beans (local). Wound up with one muslin chub and a 24" long syn. red roll.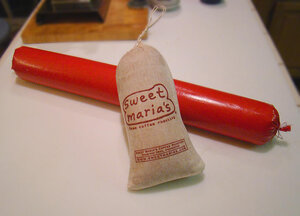 Plan was to give the rolls about 90 minutes to 2 hours of hickory smoke (like the bacon) and slowly increase the temps until the IT reached 155°. Note to SELF: keep rolls under 24" or they wont fit in the smoker! As it was, a tight squeeze...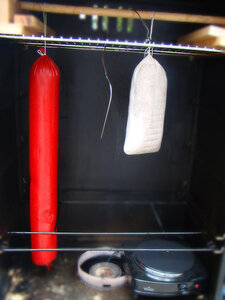 Put the pork rolls in about 8:00 am. Temp at 120°. Added smoke after about 90 minutes & gave it about 2 hours of hickory. Increased temps progressively up until I hit 165°. Kept it there until the IT reached 155°—which happened
16 (!) hours
later about 1:00 the following morning. Next time may do a poach & cut my time waaaaaaaay down.
Into an early morning ice bath: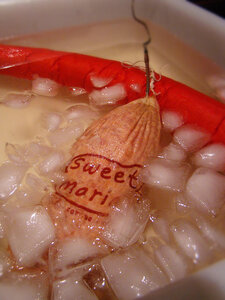 Let the rolls sit overnight in the fridge. 
Next morning, time to slice 'em up!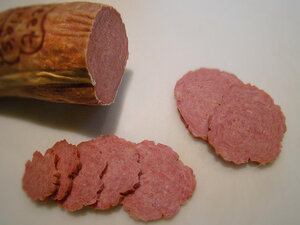 Into the pan for a quick fry: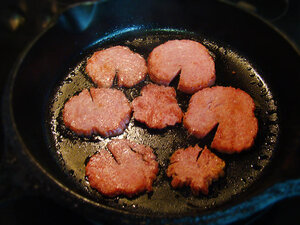 The Results: The flavor is VERY close to the target 'ideal' (Taylor's Ham); probably NOT as salty as the commercial brand; nice tanginess to the slices and tasty smokiness ("bacon-y"). Makes a great sandwich in the morning and a HUGE step above products like SPAM & the like. So far, it's been well received by the family taste-testers.
—Kevin