Master of the Pit
Original poster
Hot and fast pork butts on a windy, rainy, Ohio day. Cooking 4 bone in butts, about 9.5 pounds each. Special occasions this week, my son in law Graduates College! Good Job Morgan! Its been a long haul for him. I will cook ribs on Monday for the grad party. Radio Gal will be helping out with SQWIBS mac and cheese and vegetarian baked bourbon beans. We also have our Church Home Group Christmas dinner tomorrow night. Had 4 butts in the freezer, 99 cent a pound. I buy when ever I get a good buy.
Hard and fast on reverse flow, "Lefty" smoker. It took a while to get a fire started and up to temperature, goal is 260F-270F. Four butts defrosted, trimmed and rubbed. 2 hours fat cap down, flipped fat up. Took temps at about 5 hours, all are 165-170. Did the shuffle as the firebox side is hottest, the RF outlet is next, the middle of the RF plate is the coolest. Been fighting the wind, day temperature is about 60F.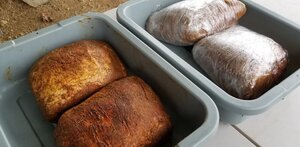 Trimmed, Rubbed, Wrapped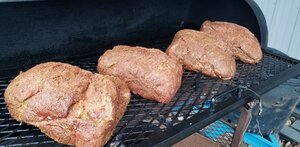 On the Fire!!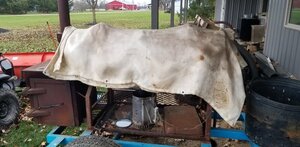 Welding Blanket helps with wind on the "skin"
Looking good! Smells like Porkopolis!!!