Epic Pitmaster
Original poster
OTBS Member
★ Lifetime Premier ★
Dec 14, 2013
15,135
13,400
If someone says Homemade soup in my house , this is what they mean . I've been eating this my whole life . After I saw the great thread from

tbern
I realized others were doing the same basic " style " of soup with different ingredients .
My Mom's original recipe was simple and basic because my Dad was a meat and potatoes guy .
2 cans tomato sauce
6 cans of water
russet potatoes
green beans
egg noodles .
A lot of great soups posted lately , so I want to add this to those , and my method for the base just using canned tomato sauce and water .
We always use stew meat . This is sirloin that I trimmed myself from a beef knuckle .
seasoned with fresh ground pepper only . No salt . I don't want the moisture drawn out when browning .
Get the pan hot . You don't want the meat sitting in liquid .
Just watch it so you don't burn it .
I use 2 15oz. cans of tomato sauce .
When the beef is browned enough I add one can of sauce .
Let it simmer . It's cleaning up the bottom of the pan
and tenderizing the meat . Put the lid on , lower the heat .
You'll smell it when it's time for the next step .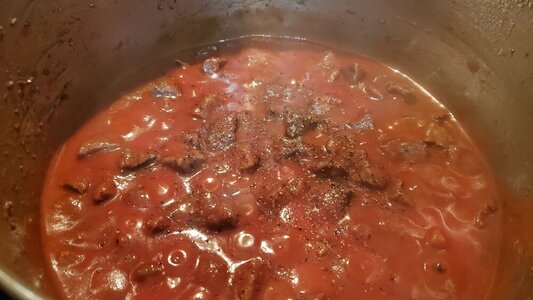 Next I add the 2nd can of tomato sauce . I did it like this so you can see the change in color . Most times I put them in at the same time .
The sauce that has been simmered with the beef is a darker color .
You can see the difference from right out of the can .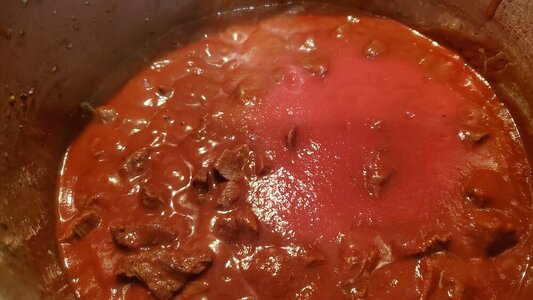 Don't toss the cans . Fill them with water and let them sit until needed .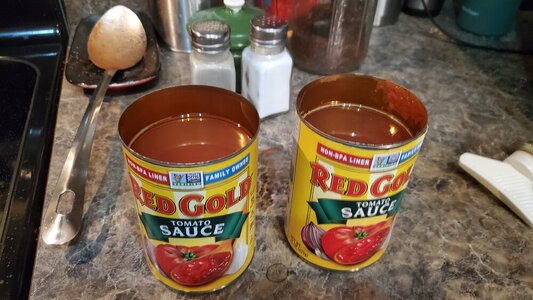 Bring to a boil , then reduce the heat and put the lid on .
When it's getting good you will smell it . This is just the browned beef and 2 cans of sauce at this point .
I think yesterday it was about 3 hours when I added the water .
So dump the 2 that you washed the cans out with , then add 4 more .
I'm also grinding black pepper along the way .
Back to a boil , then reduce and lid it up .
Start checking when the smell hits you again . I skim the foam from the top .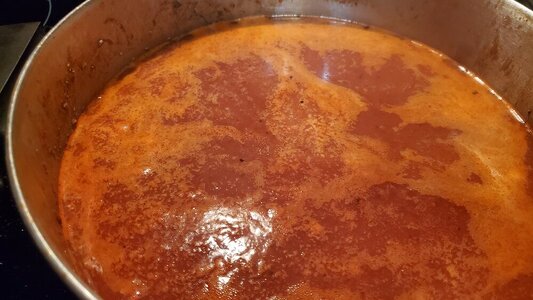 Skim it off and re-lid . Simmer , check and skim until it looks like this when you take the lid off . At this point it has a deep peppery / beef smell .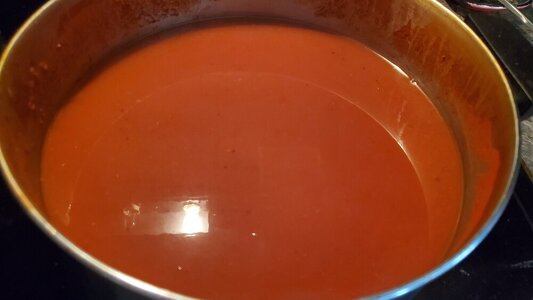 From there you can add what ever you like . This is not tomato tasting soup .
Hard to describe , but it's addicting .
I added raw carrots , frozen ( par cooked ) green beans
and russet potatoes . I cut the potatoes different sizes on purpose .
I want some to cook down into the broth . Thickens it up just a bit .
This is a long cooking soup . Really builds great flavor . Whatever you add just make sure it has time to cook through , and take on the flavor of the soup .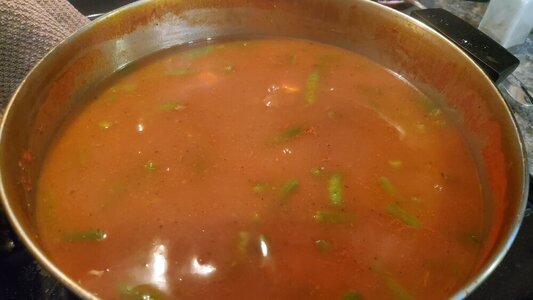 So I went to get the rustic hearth bread I bought for grilled cheese , and found it moldy in the middle of the loaf . Now I know why it was half price .
So I grabbed the mixer and put my own loaf together .
First rise , punched down and shaped .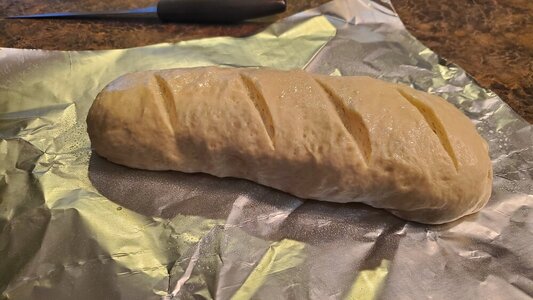 Second rise . Ready for the oven .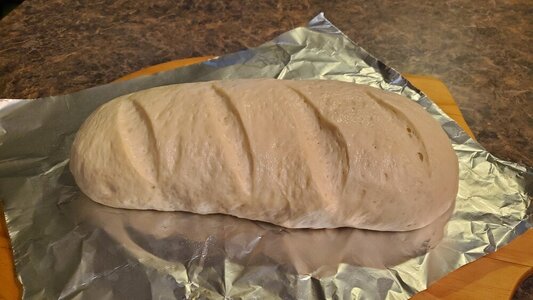 I put the cast iron pizza pan in to heat up and hour before the bread goes in .
That way I can add 2 TBLS spoons of water to the hot cast iron to create some steam .
Bread pulled when it sounds hollow on the bottom . Should be 195 / 200 .
Happy with it , except the fact that I forgot the salt .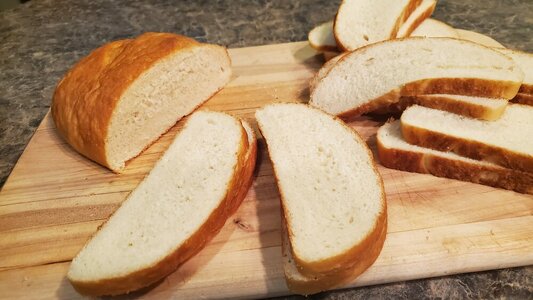 Made up some grilled cheese with pepperoni and pepper jack cheese .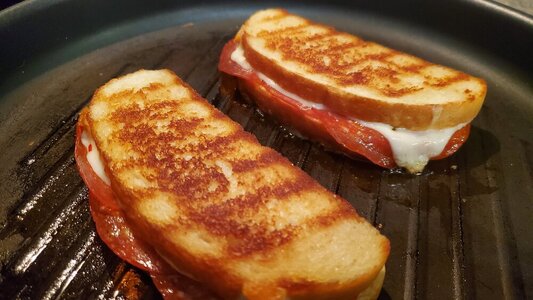 Soups ready . It smells so good . It's an all day cook ,
but it really makes a difference .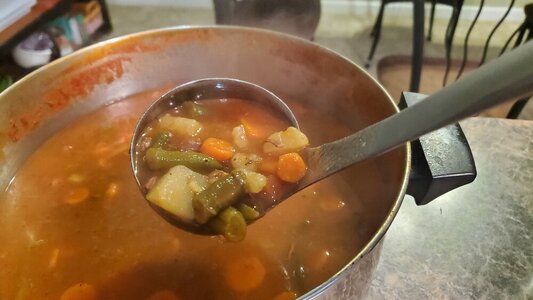 I added some wagon wheel pasta that I boiled in another pot .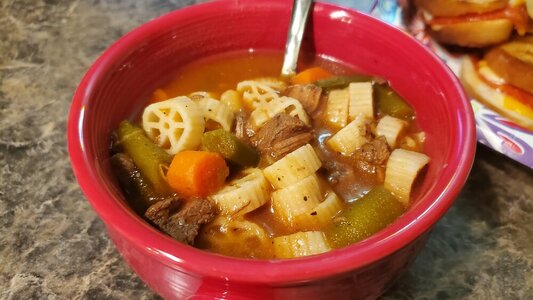 Grilled cheese and some chips .
It really hits the spot . Becomes a focal point of the whole day .
From simmering on the stove to sitting down for the meal .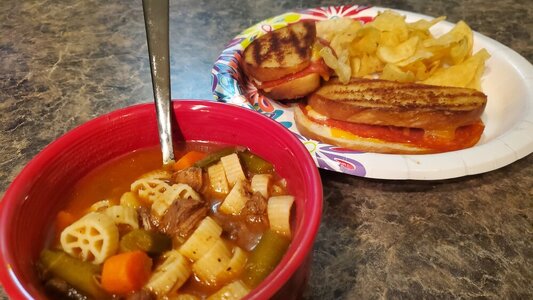 Thanks for looking . Leftovers have already been requested for tonight .