Legendary Pitmaster
OTBS Member
SMF Premier Member
★ Lifetime Premier ★
9,141
5,374
Joined Dec 14, 2013
This was the last of my ground brisket . Have one more in the freezer . I'll go in the morning to see if I can find one at a good price / less than ground beef . If not I'll thaw the one I have ,
Used a Weber Road house burger seasoning on these . Good flavor , also worked as a binder . Gets mixed in with the meat . Used lump on the performer .
Came out pretty good .
Seasoning mixed in , 4 burgers from 1 1/2 pounds of ground brisket .
Kettle fired up with some lump charcoal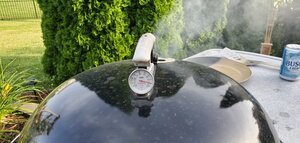 On the hot side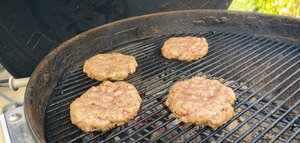 And the flip ,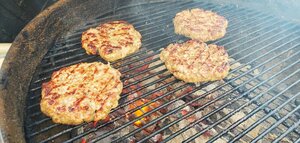 Moved off the coals ,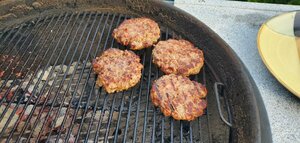 Added some thick cut bacon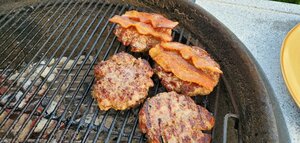 And some Swiss cheese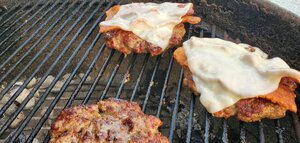 Slice of onion on a toasted potato bun , then the burger
My Son made a sauce of Dukes mayo and country Bob's BBQ sauce .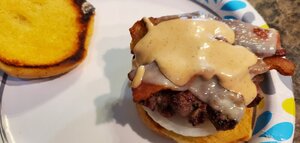 Added lettuce and a dill pickle . Some McCain's seasoned fries in the 360 .
Good meal . A bit past for my taste . Pulled at 140 .
Still good . The sauce is really good , and I like the cold crunch from the lettuce and the onion .