Legendary Pitmaster
OTBS Member
SMF Premier Member
8,023
7,198
Joined Oct 17, 2016
Green Chile Grilled Chicken Casserole
This one is a monstrous sized casserole, you're going to need a 'Extra Deep' full size steam table pan.
Of course this recipe can be done as a normal 9x13 casserole pan by cutting it down by about two thirds.
8 lrg boneless skinless chicken breast (approx 5.5lbs)
(rubbed with herbs and spices, bagged and left to brine in the fridge for several hours.)
2- 27oz can diced green chiles
2 med bell peppers, diced (optional)
1 lrg onion, minced
2- 26oz and 1- 10.5 oz cans of condensed Cream of Chicken soup
2- 7oz cans of Salsa Verde
2c chicken broth
2T ground cumin
2T crushed Mexican oregano
3T minced garlic
2T salt, then salt to taste
66 corn tortillas, toasted
1- 15oz wheel of Queso Fresco, crumbled
Most similar recipes use raw cubed chicken and corn tortillas.
Grilling the chicken and toasting the tortillas adds nice layers of subtle flavor.
Toasting all those tortillas takes a lot of time, wish I had a flattop grill.
I cook two at a time and just brown one side each, and set aside.
Note, I'm using them double stacked.
48 and counting...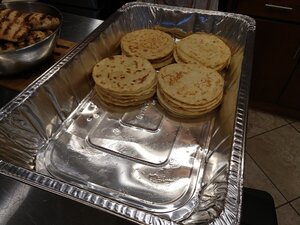 Grill those breasts over high heat, just get some nice grill marks on each side, no need to cook them through.
Then cube and set aside.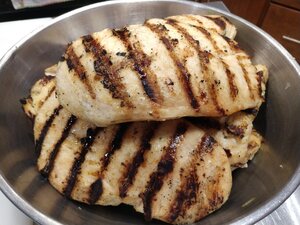 Prepare the sauce, everything but the chicken, tortillas and queso goes into a large pot and brought to a boil, then simmered for 10-15 minutes.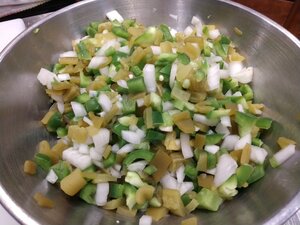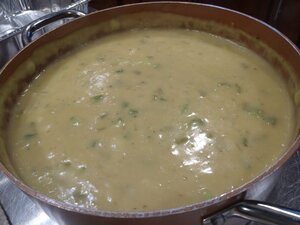 A light layer of sauce in the bottom of the pan and top with 22 of the tortillas.
Half the chicken and a third of the sauce and top with a third of the tortillas.
Repeat, chicken, sauce and then last of the tortillas with last of the sauce.
From now on I'm going to set aside sauce for the top, and mix the chicken into the sauce for the layers.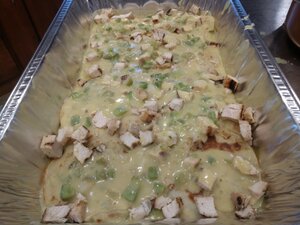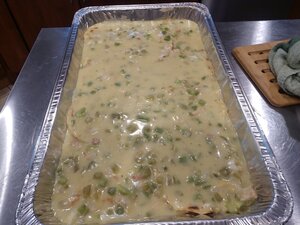 Bake uncovered at 395° approx 1 hour till piping hot throughout, then top with crumbled queso and lightly brown.
Let cool about an hour before serving.
Eight of us killed just over half this pan.
Leaves me plenty of leftovers for lunches/snacks.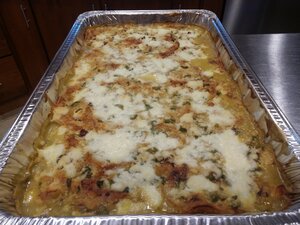 Money Shot
Dang'it, I somehow deleted the pic.
Last edited: