142
107
Joined Apr 25, 2019
So I have had a UDS i built some time ago just sitting around for about a year and never used it vecuase I needed to finish a basket. As always things come up and I put the build on the back burner until I completely forget about it. So this weekend I was in Home Depot and saw some expanded metal and that triggered my mind to say " finish the basket you fool"! So I made a quick basket about 18 inches square and 5 inches high and then did a test run to season the inside of the UDS and grates.
Bought a 18 pound packer and did a very very very light trim.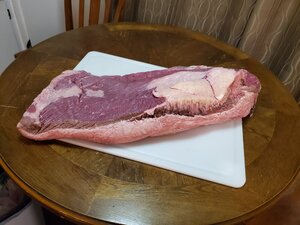 Smoked for 6 hours around 280 300. Never spritz it once or even opened the lid.. Pulled and wrapped in foil then increase heat to 325 350. It took 3 hours to finish from there. Probed great! Put it into an electric turkey roaste on the warm feature and set it at 160. This was 2am Sunday. Left it there until 230PM. But around 11am I pulled the point off, it literally just slipped off the flat, and made some burnt ends. All in all it came damn good! I can't believe it took 9 hours to cook and it was moist and tender.
Also didn't use a diffuser and let the drippings just hit the coals. But after boy oh boy was there a lot of grease at the bottom of the barrel.