Meat Mopper
SMF Premier Member
207
333
Joined Sep 5, 2020
Mrs. Smoke loves pulled pork. The butcher shop was able to cut a nice 3.5 pound piece for me to try out.
The night before I made some sauce based on Jeff's recipe. I add a quarter cup of bourbon and love it. It tastes best if made the night before and allow the flavors to meld.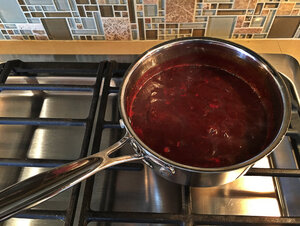 I did a hybrid smoker/oven approach based on a recipe from Jeff. I seasoned it and let it set overnight. I set the smoker to 225, loaded it with hickory the next morning, and let it run for five hours.
After five hours it had a nice bark on it so I pulled it, put it in a foil pan, poured some bourbon in the pan and covered it with foil. I then moved it to the oven at 325 for another three hours. I pulled it with an IT of 208, wrapped it in foil, then in a towel, and into a cooler for two more hours. The drippings from the tray went into a jar for later use.
It came out great! It is moist, has the right amount of smoke, and the steam from the bourbon left a nice flavor. It pulled really easy and tastes great! Mrs. Smoke is very happy!