Master of the Pit
Original poster
OTBS Member
SMF Premier Member
I picked up a couple packs of beef short ribs from Costco and dusted them with Cowtown back pepper rub. Into my magic garage fridge they went to age for 10 days. I'd normally say these meat chunks are too small to age but there was so much marbling on them I thought it was worth the risk.
I decided to grill them on the KUDU, low and slow, for about an hour using the magic dome for some great smoke. This was an after-sunset project.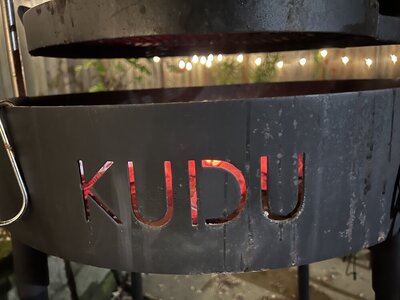 Sorry, forgot to take a picture of the dome but you get the idea.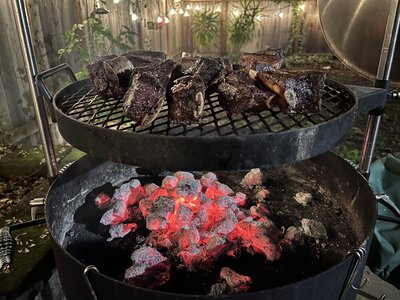 The color was beautiful. The next step was to put them in a covered foil tray. I kept the braising liquid simple. I diluted some Buchan's Japanese BBQ sauce with water and let it do it's thing for a couple of hours.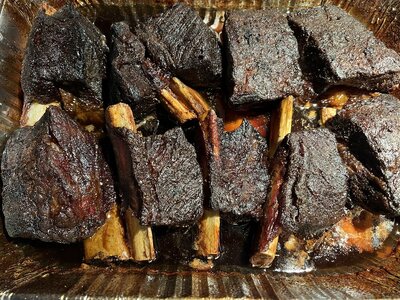 I've not cooked these before and I was pleasantly surprised by how much decadent collagen was in them. It was on par with beef cheeks. Because it ran late, I had to chill them overnight. I removed the drippings, put them in a container, and put them in the fridge. At dinner time last night I took the congealed tallow off and used the super thick drippings to reheat the ribs. I basted them a couple times in the now super-beefy Buchan's BBQ.
I've been dieting the past year so this was a very rich meal for me that about knocked me out but was totally worth the lethargic after effects. The ribs were so crazy good and the simplicity of the Buchan's for the braise is something I'll keep doing. I made some wild rice and some Asian veggie bird nests topped with the de-fatted drippings. I was raised in Minnesota on wild rice. It's a side dish that's overlooked. Cook it in chicken broth and it's amazing. This meal is a keeper.