Master of the Pit
Original poster
OTBS Member
What defines CenTex? Best I've found to describe it is "Brady to Brenham, and Seguin to Waco" or the area of the Edwards Plateau. The Edwards Plateau is a region of west-central Texas which is bounded by the Balcones Fault to the south and east, the Llano Uplift and the Llano Estacado to the north, and the Pecos River and Chihuahuan Desert to the west. All courtesy of Wikipedia.
Region: Central Texas
(linked to source)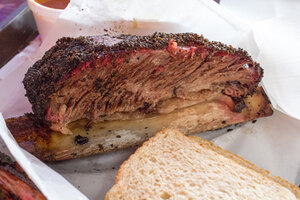 Photo: goodiesfirst.com
Target cities:
Lockhart
, Luling, Austin, Taylor
Specialty:
Brisket, beef clod, smoked sausage
Vaughn says:
"Central Texas-style is popular because of its popularity across the country. For people who live outside of the state, their only connection to Texas is the one style of barbecue served in their own town—and more likely than not it will be central Texas. You see it in Seattle, Phoenix, and all over. In terms of rituals, you're going to order meat by the pound at a counter. You're going to see the person cut it, and the meat will be served on butcher paper. Seasoning is minimal, and sauce will be on the side (a lot of people mistake that for no sauce).
Brisket is certainly one of the symbols of central Texas, along with the pork spare ribs as opposed to baby-back ribs. Smoked sausage is very important here as well. More than any other style of barbecue in the U.S., central Texas is known for its homemade links. The best are juicy, smoky, and peppery. They should have a skin that it easy to bite through, and provides what I like to call a good 'snap.'
This barbecue style developed in the Czech and German meat markets following the Civil War. Meat markets didn't have refrigeration back in those days. They displayed meats on shelves inside a case. After a few days the meat got ripe, so whatever meat you didn't get rid of, you could either put it in the barbecue, or put it in a case and smoke it. That became the way to serve leftovers in meat markets.
Meat markets were grocery stores. If you wanted a side item, you went to the aisle to see what was on the shelf. That's the reason that pickles and white bread are so prevalent, because no one is going to be giving away avocado and tomatoes. What's the cheapest thing you can offer? Raw onion, dill pickle chips, and white bread.
Now there's a divide between new school and old school. The new school (think Franklin Barbecue and Freedmen's) is defined by a laser focus on beef quality. It's really a different style of cooking. They start with a high grade of beef like prime beef, and there's absolute consistency from day-to-day, hour-to-hour; that is of the utmost importance. You get a phenomenal slice no matter when you show up. With an old-school place like Kreuz, it's more of a gamble. You can have an 'aha' moment as well as a mediocre one. At Franklin that doesn't happen."
Places to visit while passing through. This is far from a complete list. Alphabetical order. Input appreciated:
Blacks BBQ - Lockhart
Brotherton's Black Iron - Pflugerville
Chisolm Trail - Lockhart
City Market - Luling
Coopers - Llano
Coopers - Mason
Elgin Smokehouse - Elgin
Franklin BBQ - Austin
Kreutz Market - Lockhart
La Barbecue - Austin
Louie Mueller - Hutto
Rudy's Chain - Austin
Salt Lick - Drifwood
Smitty's Market - Lockhart
Snow's BBQ - Lexington
Southside Market - Bastrop
Stiles Switch - Austin
Valentina's Tex Mex BBQ - Austin
Anyway, hope y'all find this useful and I'll keep this and subsequent lists up to date as best I can. If I miss something, feel free to PM me.
-Zach
​