668
645
Joined Sep 28, 2018
I have a really hard time trying to do anything fancy with a brisket. The meat is just so darn good with minimal intervention. Here's my basic brisket method:
This time I started with a 15lbs certified angus beef brisket. Usually I shoot for smaller briskets because all I have right now is a MES 30. So until I can get someone on here to give me their Lang for $free.99 I just make the best of my small surface area.
I don't trim much. Just the hard fat on the underside, and a bit of the fat on the top if it is way too thick (top right corner of picture).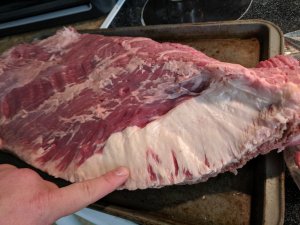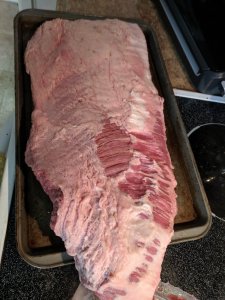 Now it's time for the SPOG (salt, pepper, onion, garlic) treatment. Some guys pre-mix the seasonings beforehand and I do when using it on other cuts of meat, but with brisket I do each spice individually. My main purpose in this is to control the saltiness. Ever since I spent 10 weeks in the bush of Zambia (back in '07) where we didn't have the luxury of added salt, I just don't have much liking for overly salted foods.
This what it looks like when I'm done salting.
Just a light dusting of onion powder.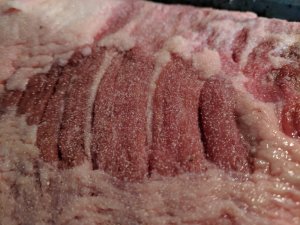 Lots of garlic.
I'm a proud Texan. Bring on the course black pepper.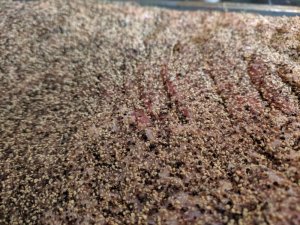 Then into the fridge for a short sauna treatment. I only left this one in there for a few hours tops (had some beef back ribs on the smoker).
Because this brisket was bigger than my MES could swallow, I used the beer can trick. Just stick a beer can under the middle of the brisket to lift it up. It worked pretty good.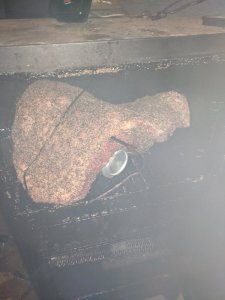 I used a mix of 80% oak and 20% mesquite wood pellets in my
Amazen
Tube. The 12" gives me about 4-5 hours of good smoke.
After a couple of tubes worth of smoke at 235°, the brisket was at 167° IT so I pulled it to wrap in butcher paper. What I'm looking for here is good bark formation. If I'm not satisfied with the bark, then it goes back in without a wrap.
It shrank enough that the can was no longer needed.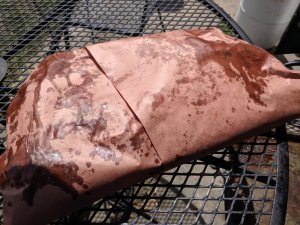 At 206° IT the brisket was probe tender with a bamboo skewer. This where I normally stick it in a cooler and let it rest. But this time I took the wisdom of

Bearcarver
who says meat isn't very smart and just left it in the MES after dropping the smoker temp to 145°.
A little over an hour later, we feasted.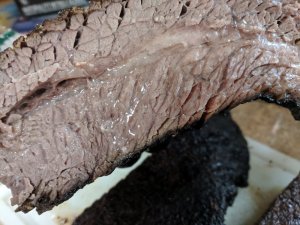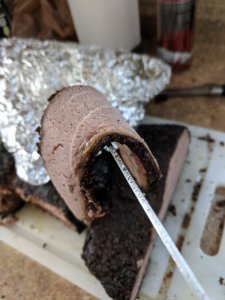 Y'all gotta try this
jalapeno coleslaw
recipe! We leave out the sugar when we make it.
Juices in action
Half of the flat was left and a little more than 3/4 of the point. I sealed up the flat and half of the point for a rainy day.
The rest of the point got sliced up and put on rolls with horse radish mayo for fishing snacks the following day.
Last edited: