Master of the Pit
Original poster
SMF Premier Member
It was my birthday yesterday and I had these two strip loin roasts in the freezer, so why not. I defrosted them for 2 days, spiced them up with pepper and garlic and let them sit in the refrigerator for another day uncovered
Smoked them in my smoke vault propane smoker for 3.5 hours at 180° for the first 2 hours then 200° for the emailing 1.5 hours. I pulled them at IT 130° and seared them on the grill for not very long.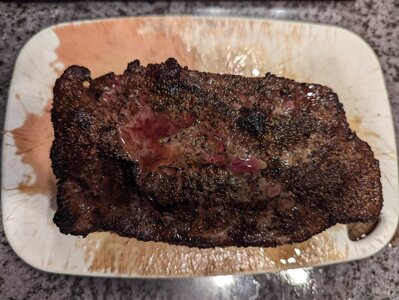 I smoked them as long as I could get away with, to see how they would turn out, they were sliced the wrong direction because it was easier, at least that's what the carver said, I was already into too many glasses of wine to be trusted with a sharp knife. The pieces were cut thin and wanted as much smoke flavor as possible.
Also made some burnt ends with some American wagyu Chuck roast and some sweet baby Ray's bbq sauce. Don't have a picture of them when done, I already explained why.