Master of the Pit
Original poster
SMF Premier Member
BIL brought Beans/ so I made Ribs and Biscuits
So Brother In-law called and said they were bringing in Baked molasses beans , ( so that gave me an hour in half )
so I pulled out some ribs and did them fast and hot
Slab of ribs , I cleaned them up and rubbed on lots of Memphis Dry rub. On the grill at 400/415 Deg. Indirect cook.
with Mesquite pellets in the tube.
After 45 minutes
After 70 minutes, temp at 178 Deg. , mopped on lots of Kraft Extra Rich BBQ sauce , very similar to Sweet baby Rays
While this going on made some Potato Biscuits, recipe from Bonita's Kitchen. a chef from Newfoundland . Very good reminds me of, tea biscuit/English muffin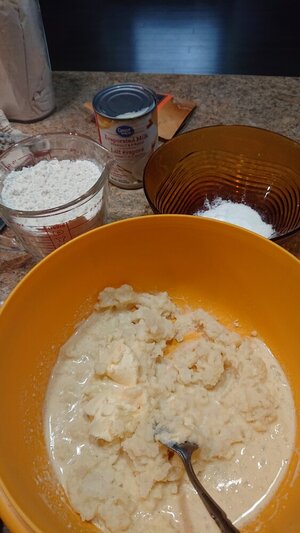 Beans were very good . Made with lots of bacon strips and pork fat . Molasses and onions.
Good meal , all were happy . I can see the mashed potato Biscuits being used again .
Hot and fast ribs are great. They have their place , but I also like low and slow.
as for the beans , BIL can bring them in anytime , just a little more onions for me. lol
Thanks for looking
David
Last edited: