Legendary Pitmaster
OTBS Member
SMF Premier Member
★ Lifetime Premier ★
8,581
4,827
Joined Dec 14, 2013
Haven't done a whole turkey in a very long time . Daughter brought home a 13 pound bird . Thought about just throwing it in the oven , but since 13 is half of 26 , the cover came off the kettle . I decided to set this up old school . Like I used to do years ago . Bank of fully lit coals each side , then I added 8 coal per side on the hour . Put a probe in the thigh and the breast , and one for cook temp . Kettle ran right at 350 . Bird only took about 3 hours to reach temp . I was done way early , but that's always better than late . Ran some peach wood chips right at the end for some color .
Injected with Tony's creole butter , tied up and in the fridge over night .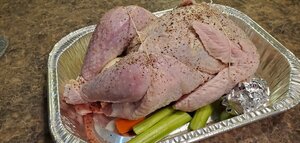 Next morning I added some stock to the pan , and stuffed the cavity with celery , onions , carrots and garlic . Sage and butter went under the skin . I let the kettle run up to 400 , then started adjusting the vents .
When it fell to 375 I put the bird on . Settled in at 350 , just a crack back open on the vents .
After an hour , opened up to add charcoal to each side .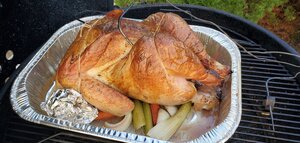 Added charcoal twice , just to make sure I didn't lose my temps .
Second add of coal also got some peach wood chips .
In the house to rest uncovered . I don't cover poultry .
Rest of the menu ,
Daughter made broccoli rice , dressing and a butter finger pie .
Son made fresh green beans , and mashed potatoes .

civilsmoker
the mash was a Gordon Ramsey recipe . WOW !
I did some sweet potatoes in the 360 air fryer .
This all came out great . I haven't eaten this good on Thanksgiving in a long time .
I was ready to get after it . Hadn't eat all day , so I did the dump and run .
I'm thinking that would be a good breakfast !
Hope you all had a good day . We enjoyed it .