Master of the Pit
OTBS Member
SMF Premier Member
4,372
1,145
Joined Dec 13, 2017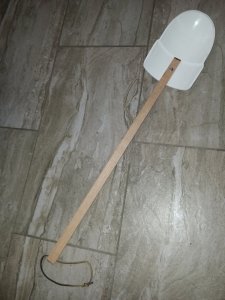 Go ahead, take a guess.
OK, Clue 1, those are 12" X 24" floor tiles. So this "Sugar Spoon" is garden spade sized.
Guess again.
OK, this is my Extra Large glove sized paw.
So this home made thang is substantial.
OK, this is my Left Coast Redneck Boil Pot stirrin stick. Version 2.
I wasn't happy with Version 1, so I scratched around and spotted a 6" PVC pipe 45° coupling left over from my dust collection system.
And of course, my over active imagination saw this Paddle Head immerge from the big fitting. So over to the big bandsaw to free the paddle head from bondage as a pipe fitting.
A little sanding and scraping, a good stiff washing, fitted it to my shop made handle, and last thing was a leather wrist strap / hanging hoop.
Ready for the crab boil on Saturday. SIL gave me the day off, said I certainly earned it. ;)
Just about got all the ducks in a row now... :rolleyes: