Being an avid outdoorsman for all my life, I pride myself in bringing my game from field to table - processing/smoking/curing/cooking. In all my years of harvesting deer, I've never kept the shanks. After a tip from a fellow hunter, this past season I saved all the hocks from both deer I harvested. I found this recipe in my John Folse cookbook, and decided to give it a go! All I have to say is I'm mad at myself for never doing this sooner!
Ingredients:
8 venison shanks
1/2 cup olive oil
2 T butter
salt & pepper to taste
Granulated garlic to taste
Louisiana hot sauce to taste
1 cup flour
2.5 cups diced onions
1/2 cup celery
1/4 cup minced garlic
1 cup diced carrots
1 cup dry red wine
4 cups chicken stock
1 t dry basil
1 t dry thyme
1 (15 oz) can diced tomatoes
3 bay leaves
1/2 cup chopped parsley
1 T lemon zest
1/2 cup sliced green onions
Preheat oven to 375* - heat olive oil and butter in dutch oven over medium-high heat. Season shanks generously with salt, pepper, garlic and hot sauce. I tied my shanks with butcher twine to keep them from falling apart. Dredge well in flour, shaking off excess. Cook a few shanks at a time until golden brown on all sides.
Remove and set aside until all are browned. To the pan drippings, add onions, celery, minced garlic and carrots. Saute' 3-5 minutes until veggies are wilted. Remove any excess oil and add red wine. Bring to a rolling boil then reduce by half while scraping all drippings from pot. Blend in chicken stock, basil, thyme, tomatoes, bay laves and parsley.
Bring to a low boil then add shanks back into the pot, basting them before covering and placing in the pre-heated oven. Bake at 375* for 1.5-2 hours or until fork tender, basting occasionally. Garnish with lemon zest and green onions, serve over cooked pasta, rice or jambalaya and top with sauce.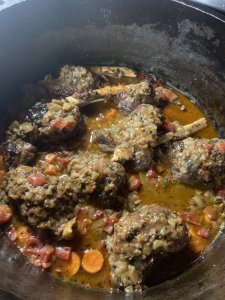 I served mine over rice on "fine China", since I was at the camp.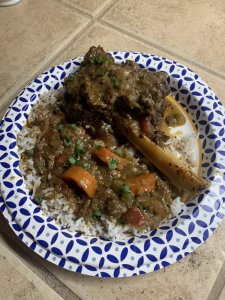 Needless to say, I will be making that again!