Epic Pitmaster
OTBS Member
SMF Premier Member
10,976
2,828
Joined Apr 4, 2013
Time to start thinking about a little practice again. Break out those turkeys we all bought after Thanksgiving last year on sale. Its been long enough so you'll have forgot how much you ate and it will taste good again, yet early enough so that you'll have time to get over it in time to do it again this year. LOL
This is a Butterball, it is NOT enhanced, nothing there but pure turkey goodness.
I have been trying for almost 50 years to recreate my Pop's most unbelievably turkey ever. It was a brand spanky new Weber charcoal water smoker. The first time we had ever had an injected turkey and we all were in awe of the bird. Every year on the practice bird I have to try to recreate the most awesome bird ever smoked. I am guessing we have all had one of those its why we still smoke meats!.
20 lb. bird. Thawed 2 days, dehydrated for 2 days in the reefer (Dry but not too dry)
Injected with the magic
Smoked on Apple (Pop always smoked on either mesquite, pecan or hickory)
1 hour @ 265 F
5 hours @ 220 F
IT of 163 F
The magic injection Pop used Lea & Perrins, liquid garlic, liquid onion, tabasco, butter & salt. BUt never gotten it exactly right. I have been doing brines because the length of time to do a big bird and safety. A proper turkey should be low and extremely slow so that all the tendons/leaders in the legs pull out without resistance.
This bird had a brine made up of Pops flavors Lea & Perrins, liquid garlic, liquid onion, tabasco, no butter. all dissolved in a std. brine of salt/sugar/sugar cranberry juice and apple juice. 24 oz were injected into the turkey the night before smoking. That way it had time to be wiped down and dehydrated overnight before smoking.
So pictures...... Sorry didn't take too many.
I like everyone else have all kinds of injection devices, I used a standard cattle syringe purchased at any "Feed & Seed" store.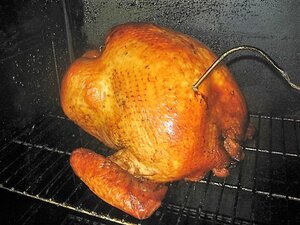 LOL... 4 hours in when I noticed no smoke and started tearing the smoker apart ( its why we practice right?)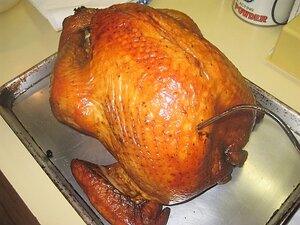 Got a little apple on it, but you have to be looking for the taste to find it. LOL
Rested 45 mins. to exactly 163 IT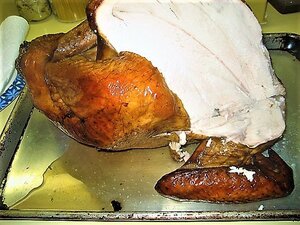 Drowning in juice, just look at it. The breast beat was almost fall apart tender too.
I sliced it cause thats how they do it in the Norman Rockwell pictures, I know the right way, I just sometimes forget (practice right?)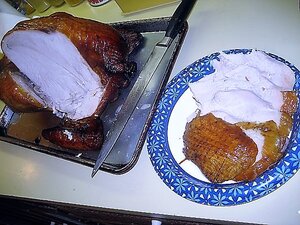 Thats an amazing amount of meat there off that one side of the breast.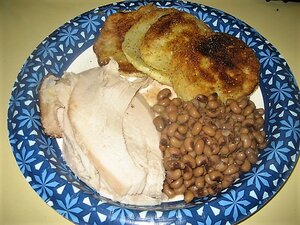 Last but not least the Q view. Thats southern fried white (Patty pan) squash, purple hull crowder peas, and a pigish amount of white meat. I was upset when I started writing this, I can't believe I forgot the cranberry jello mold. I mean it is plumb uncivilized to eat turkey with it! I am gonna go make some as soon as I finish this so tomorrow I will not feel so unsocialized. Thanksgiving, I throw in the green bean casserole and candied yams, but this is just to much I have to eat now.
Thats it Boys and Girls, its practice time in July and I don't need to cook any more for a few day now...LOL
Stand home, hug your smokers and stay safe my friends. It just ain't worth taking a chance going out just yet.
TTFN!!