Master of the Pit
SMF Premier Member
1,222
658
Joined Jun 25, 2017
The grocery had a sale on "top sirloin steaks" last week and even though I'm not a big fan of sirloin steak I decided to give it a whirl with the sous vide/sear method and see what we could get. They were thinner than I would like, about 3/4" but ya get what you got.
In the vac bag with no seasoning. Usually I salt and season at this point but trying it this way this time.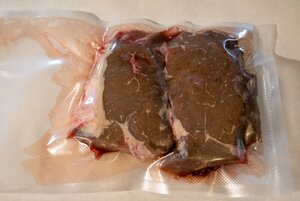 And into the bath at 130F for 8 hours. My S/V lives in the barn/shop/man cave so as not to take up any of SWMBO's precious counter space.
After 8 hours I shock cooled them to around 70F then seasoned with salt, pepper and garlic.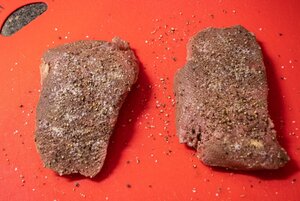 Then onto a screaming hot (450-500F) griddle for a good sear - about a minute or minute and a half per side.
Money shot.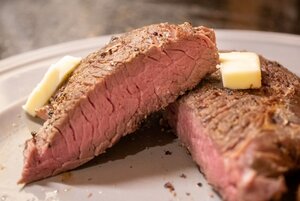 Had these with a baked sweet potato and a side salad. The steaks turned out pretty good. I'm still trying to fine that sous vide sweet spot where the meat becomes nicely tender but does not move into a "mushy" texture range. These were just a little toward that area but not bad. I think I'll try sirloin again with maybe 4 hours in the bath. Suggestions welcome, as always.