Smoking Guru
Original poster
Good afternoon! The forecast was for a beautiful day yesterday and I took a chance and trusted it.
I dug around in the freezer to find something suitable and found something I bought to use for sausage some time ago:
Looked around a couple of sites for London Broil/Top Round recipes and found one that used a marinade.
3 cloves minced garlic
1/2 cup soy sauce (I used low sodium)
2 Tb vegetable oil
2 Tb ketchup
1 tsp dried oregano
1 tsp black pepper
I gave it a good stabbing on both sides and scored and it went into the marinade bag for what turned out to be almost 24 hours, turning every so often.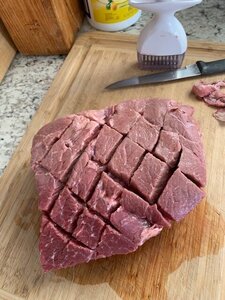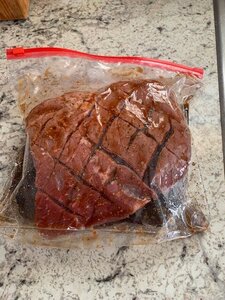 I used the "upside down
vortex
" method for the coals and gave it a good sear on both sides. About 4 to 5 minutes each side.
Then moved it off the direct fire to bring to temp. Didn't take long.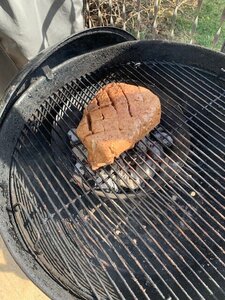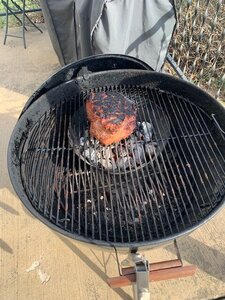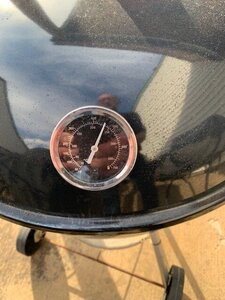 Chives are coming up and just what the doctor ordered for mashed potatoes.
Perfect!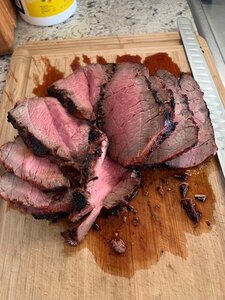 Plated with mashed potatoes, green beans and buttered sourdough bread.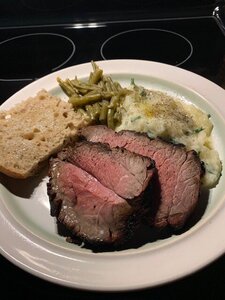 A great cook for early spring.
BBQ season is upon us! Thanks for looking and have a wonderful day!
Dan