Smoking Fanatic
SMF Premier Member
398
595
Joined Sep 5, 2020
I am on my second test smoke after modifying my Masterbuilt propane cabinet. I put the details here:
Twiddling valves, although satisfying, was cutting into my bourbon time. Being the lazy ass that is me, I knew there had to be a better way. There is. After my conversion, my little smoker is maintaining temp within one degree. The convection fan keeps the cabinet an equal temp except for the...
www.smokingmeatforums.com
This afternoon, after cleaning up my garage from this project (used every darned tool I own), I decided to test-smoke a couple of stray blocks of Tillamook cheese that were hanging out. The Tillamook dairy is only about an hour's drive from here in Oregon, so that is my favorite.
What is different this time, is after my modifications, I can get the temp down to ninety degrees, and I now have a convection fan to stir the smoke up. In this cabinet, the smoke tends to travel up the back wall and out the top vent. The idea behind the fan is to distribute the smoke evenly.
I started out by cutting up the little blocks into cracker-sized blocks. I let them sit out for two hours to warm up to room temp. Meanwhile, I warmed up the smoker with a mix of apple pellets and chips in a tube. It was forty degrees outside. The smoker was running at ninety, even in a strong wind. After the cheese warmed up, I put them in and left the burner on for about an hour. Then I shut off the burner and let it coast. The smoke generator does not add any heat. I set the convection fan to run at half-speed just to to stir up the smoke.
I have smoked cheese in cold weather before, and felt the cheese did not accept the smoke as well as I had hoped. In warmer weather, I got a better taste. If you have opinions on this, I'd like to hear from you.
After two hours, the cabinet was at sixty degrees. I tested a block and really liked the taste. In fact, I think this may be the best tasting batch to date. And, the blocks did not sweat. I attribute this to the fan. Each block has a nice even smoke unlike past smokes. The cheese is delicious right now without any bitterness. I sliced some up and served it with crackers and wine to enjoy with Mrs. Smoke. She loves it!
The convection fan seems to be making a noticeable improvement in my initial test smokes. Tomorrow I am going to try out a couple of pieces of salmon. Maintaining a low temp for the salmon will be a good test of the PID, and I think the fan is going to make positive difference as well.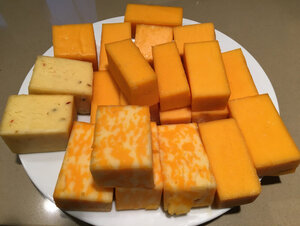 Now that this project has moved out of my garage, I can get back to the important project of fabricating a stainless steel exhaust system for my motorcycle project. Priorities you know.