Smoking Fanatic
SMF Premier Member
882
352
Joined Jun 5, 2018
Going to one of our two chest freezer is a bit like a treasure hunt: sometimes you find a treasure and sometimes you don't. You never know what you'll find. But on a trip to the freezer the other day I came across a package of thick-cut loin chops. Yep. I think that will hit the spot nicely. I wanted to use the grill since it was a nice(ish) day at the end of October and hadn't used it in a while.
The Glaze (Bourbon Butter Sauce)
4 oz butter
1/4 cup brown sugar
2 oz bourbon (I used a local distillery's clear bourbon....yum)
2 oz honey
2 tbs dijon mustard
Heat and mix ingredients in a small sauce pan. Continue to simmer until reduced about have then let cool.
( I can't take credit for this glaze, I came across it a while back but can't remember the source. )
The Rub
1/4 cup Frank's 4 to 1 ( four parts course salt to 1 part course ground black pepper)
2 tbs Steak Seasoning (use your favorite)
Generously coat both sides of the chops about 30 minutes before they go on the grill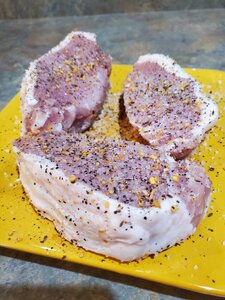 The Cook
I set up my grill for two zone cooking: a high direct heat for searing and a lower indirect heat for the bulk of the cooking.
Place the chops on the hot direct heat side for about two minutes. Rotate the chops 90 degrees and cook an additional two minutes (want to get those delicious looking grill marks)
Flip and move the chops to the indirect side and cook to an internal temp of about 130F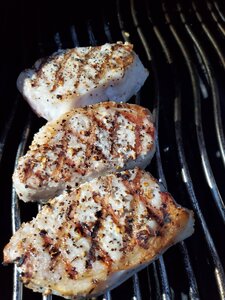 Move the chops back to the direct heat side and coat with the glaze you made above (you did make it, didn't you?) Cook till an internal temp of 135 to 140.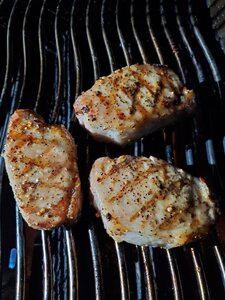 Pull off the grill and let rest for 5 to 10 minutes before serving. I paired these with some home-made applesauce (recipe upon request) and Stove Top Stuffing (don't judge me. My wife and I love us some stove top stuffing and it is so easy to make). I'm not sure what happened to the picture, but you get the idea.
Chops and applesauce were juicy and delicious. It even passed the 7 year old grandson taste test. Prep time about 10 minutes. Cook time about 20 minutes.
Thank you for viewing.