Master of the Pit
OTBS Member
SMF Premier Member
1,845
1,875
Joined Mar 8, 2017
Ran the smoker from dawn to dusk. Post Oak was the wood of choice (I was out of pecan, and May have a new favorite). We cooked jalapeño poppers, St. Louis spare ribs, a whole lot of pork belly burnt ends, prime brisket and Boston butt. I haven't sliced the brisket yet, as it was for someone else but I did get a taste off the end and it's just right.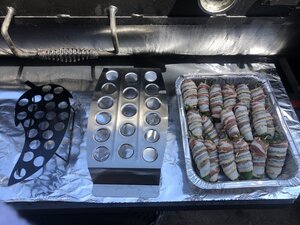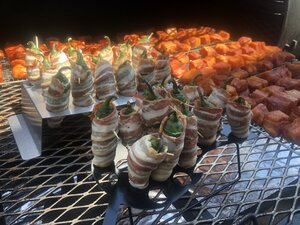 The poppers were good but HOT. Cored out whole, stuffed w cream cheese,cheddar,chives and bbq rub. I absolutely love my new popper trays, picked em up at ace hardware and they cleaned up like new after the cook.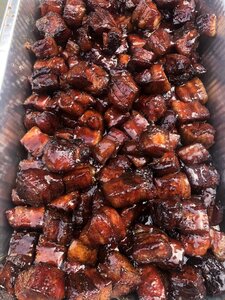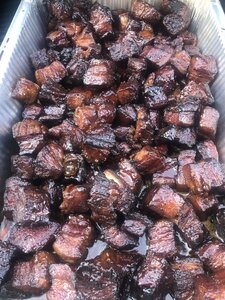 The pork belly burnt ends continue to be a show stopper. Even the folks that don't like fatty food, I see em hitting the pbbe's. This batch was phenomenal. I follow Malcolm reeds process and it's on point. Just looking for a soft, spongy, crusty texture and I was pretty proud of these.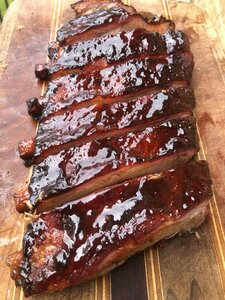 Lang ribs. I love em! 250 for about 4 hours and they come out perfect. Again, I love Malcom reeds stuff and on ribs I really like his "The Rib Rub". No wrap needed. I like to glaze them with blues hog sauces as they are finishing up.
Brisket and pulled pork. Not much to say about the butt. I don't wrap until it's just about ready (185 ish). I shred by hand and always add a heaping dose of
chef
jimmyj's finishing sauce. I can (and do) drink that stuff plain! Perfect compliment to pork.
I didn't wrap the brisket until the bark was crusty (180 ish) and yesterday I used peach paper, which I hadnt in a while. happy with how that all came out, and the post oak really does give that brisket a great flavor. Oh, and the rub was the usual for brisket. Oak ridge black ops.
Hope everyone enjoys their Labor Day!