SMF Hall of Fame Pitmaster
OTBS Member
SMF Premier Member
26,094
3,504
Joined Nov 12, 2010
It's cold and I love beans and smoked pork soups....
Since I found out about these SCR's (silicon controlled rectifier) I have multi purposed many cooking utensils... electric fry pans... deep fryers... smokers... and immersion blenders do very well when they are tamed down... all in the name of, "not having the heating element come on "FULL BLAST" and burning stuff... or covering the kitchen in emulsified stuff" .....
Works awesome.....
First, I can turn the SCR up to full power to bring stuff to a boil...
Second, I can regulate the output of the heating element using the SCR.. I can turn an 1100 watt element into a 300 watt simmering element...
The black marker is close to a 180 degree simmer on most of my stuff... it needs tweaking depending on the appliance....
I soaked the baby Lima bean overnight.. rinsing thoroughly at the start of the soak and after the soak... Salted during the soak... I read somewhere that was the right thing to do to keep the outer part soft...
Put bacon fat in the bottom of my deep fryer and put the sweat on onions, celery, bell peppers... Added a 16 oz. Miller light for flavor and put the neck bones in the pot.. turned the SCR up to high to get a short boil... added the beans... added tap water to cover... once a weak boil was happening, I turned the SCR down to a simmer ish... I will get it adjsuted at about 180-190..
I was gonna use 1/2 a beer but it was too early to drink the 1/2 can... maybe later...
.. sweating stuff in bacon fat....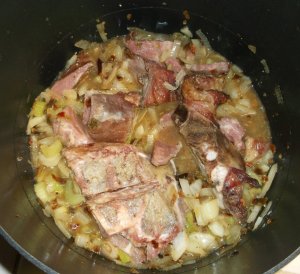 ...added the beer...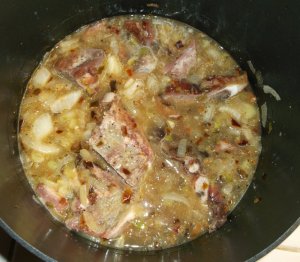 ...added beans and water to cover...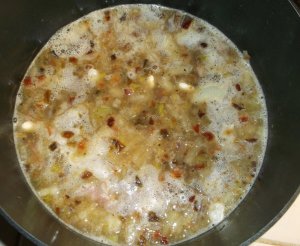 I really like the control the SCR gives to many appliances...
A quality wired temp probe will help keep temps where you want them....
...my deep fryer....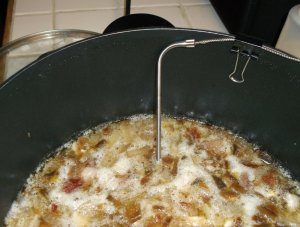 ....I'll get it dialed in....
...Gettin' close to skim time...
Thanks for lookin'.... Dave
....