SMF Hall of Fame Pitmaster
OTBS Member
SMF Premier Member
26,260
3,639
Joined Nov 12, 2010
This is NOT a certified method endorsed by the USDA

,....

If you copy this method or one similar,

EDIT.. 1/11/2021 ... I'm recommending to NOT add anything to the tomato sauce as you do not know what vagrant bacteria may be present and contaminate the sauce... especially botulism... anything that needs 240F to kill, like you would in your pressusr canner .. botulism bacteria live in the soil so they can contaminate ANYTHING ... and end up on your kitchen counter... THEN, the low oxygen atmosphere in the jar is a perfect growing environment.

.

I bought this HUGE can of Alta Cucina tomatoes that are absolutely delicious.... They were recommended by Jack Chapman on his U-Tube video... "Chaplin's Classics" and "Cooking with the Blues".... I opened the can and he was correct....

Also,

forktender
did a taste test and noted them as the best.... His test can be found here....
I was inspired for this idea in another thread. Anyone willing to share? Advice or suggestions welcome. Not looking for anyone to give up those family recipes or secrets (but will take them if you give them). :emoji_laughing: We make a pretty good one but not perfect yet. I am fairly sure...
www.smokingmeatforums.com
Well, as sure as the sun rises, there's no way I can use a 6+ pound can in one sitting... Freezing was recommended but ..... I felt like doing a water bath on them..
Here's my thinking...
The tomatoes were already canned.... pH tested... canning process approved... what can go wrong... there's no meat or whole veggies to break down as I took out the motor boat blender and ground up everything in the pot I heated them up in....
I took the pot of tomatoes to 185F and transferred the sauce to the jars... I had heated the lids to sterilize them...
The bands went on "finger tip" barely tight... Gotta leave the lids "not tight" but barely snug, so air can escape and water not get in the jars...
The water bath is running about 205F and a very slow boil is happening as I type... Living at 1200' elevation, boiling point is below 212F.....
Air is escaping from the pint jars... I will continue the water bath until it appears no more air is escaping... That will let me know the contents of the jars will not get any hotter... ~45 minutes was the recommended bath time... I have the timer set for 60 minutes... Gotta hang out on the safe side of stuff... If 45 is good, and safety margins already built in... 60 is perfect for me....
So, this 6+# pound can cost me ~$15.. a bit excessive but I figured it was worth it... I have 8 pints.... 7 in the water bath and 1 in the refer... I did not process the one in the refer so I will use it very soon... Like maybe tonight on some pasta....
8 pints brings the cost per pint down to ~market prices art <$2 per pint and even less for a 12 oz. can....
2 MINUTES TO GO !!!
Now the wait..... To see if I did good or wasted some money....
I can do a taste test with the pint jar in the refer against these re-canned jars....
Thanks for looking..... Dave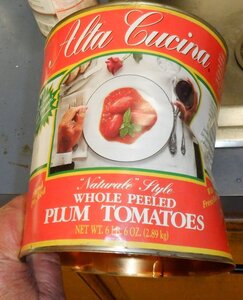 .....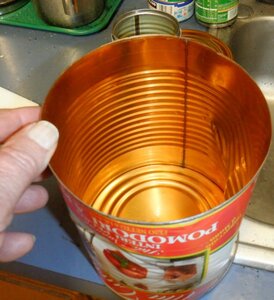 .....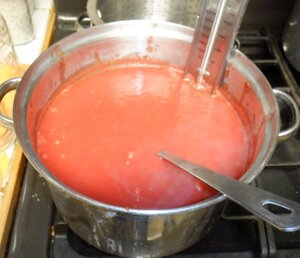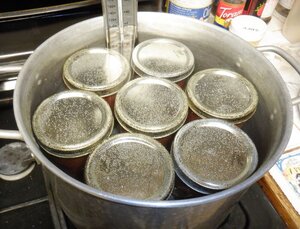 .....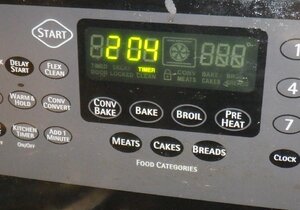 .....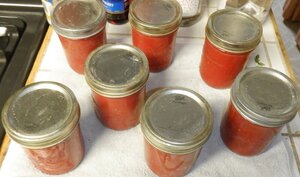 Last edited: