668
645
Joined Sep 28, 2018
Albertson's had whole chickens on sale (I've grown to love shopping...for meat sales!). Bought two and decided to make pulled chicken tacos for the game this past weekend.
Started with the two chickens and brined them all morning long from about 7am til 3 pm.
Took them out of the brine and paper towel dried them. I didn't feel like mixing up a rub that day so I sprinkled them with Fiesta Brand Fajita Seasoning (to me, it tastes like a really well proportioned SPOG).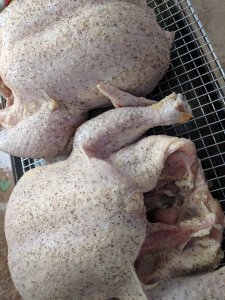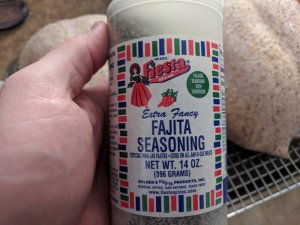 Into the preheated smoker they went. 275º on the MES 30 with the AMZNPS Tube filled with Alder. When the IT hit 145, I took them out and placed them in a foil tray and covered them with more foil. I did this hoping that I would catch some juices that I could add back into the meat after I pulled them. My wish was granted. I'll do it like this every time from now on to catch those juices!
After resting for 30 minutes I pulled the chicken with my hands with ease. Afterwards, I poured all of those marvelous juices back onto the meat and mixed it all in. (Click to enlarge this picture to see the moisture)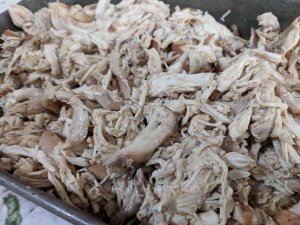 Now this is something to taco 'bout!
Last edited: