Master of the Pit
Original poster
OTBS Member
SMF Premier Member
A friend made some pork steaks using a recipe I gave him for Cedar Plank Salmon and he added 2 Tbsp of hoisin sauce. His looked so good I thought I would try.
Here is the ones he grilled:
Here is the salmon recipe:
1/3 cup vegetable oil
1 1/2 tablespoons rice vinegar
1 teaspoon sesame oil
1/3 cup soy sauce
1/4 cup chopped green onions
1 tablespoon grated fresh ginger root
1 teaspoon minced garlic
I decided to use my boat motor blender which was probably a mistake. It came out really thick. I like using pineapple to tenderize some things but you can't use much. I grated about a 1" cube of some frozen into marinade. I normally just use my old Weber Silver B for these quick cooks. It gets screaming hot. I decided to use kettle. I should of left the cover off as it did not get hot enough for a good char but I did not want to over cook steaks so just went with it. They where very good and tender just missed the char.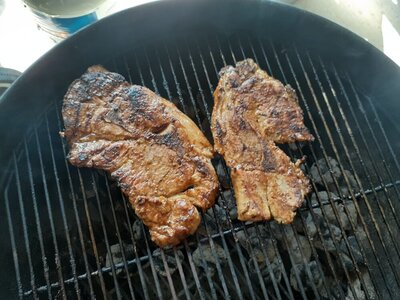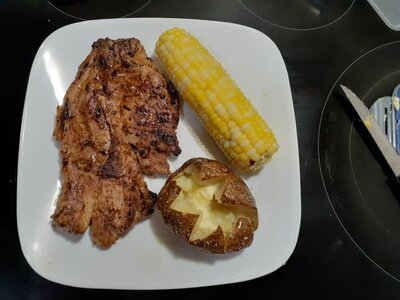 I showed my fishing buddy from years ago how to butter corn with a slice of bread. He said you can learn something from a Yankee. He died several years ago in a wreck and was when I stopped fishing.