Master of the Pit
Original poster
OTBS Member
★ Lifetime Premier ★
About once a month I'll pick up a family pack of boneless breasts, packaging some for the freezer and at least 4 or 5 to brine and smoke for sandwiches or in salads. I freeze these individually so I can pull out one or two at a time. I used to hot smoke finish on my drum or Big Chief, but a year or so ago I did a warm smoke with SV finish and now it's my norm. The SV nails the doneness perfectly from the thicker neck end to the taper on the bottom end. I'm on the lookout for a turkey breast, but I will add some more aromatics and use a combination brine method (inject and cover brine) and ~72 hours of cure time. Maybe adding some AmesPhos to the 10% of the injected liquid for the first 15 hours, then into the brine bucket.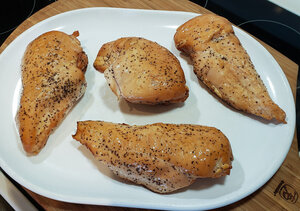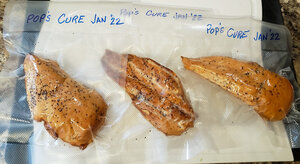 My version of Pop's Brine:
1 gallon of water
125 grams canning salt
25 grams white sugar
25 grams brown sugar
20 grams Cure #1 (heaping tablespoon)
3/4 teaspoon black pepper
Additional black pepper for seasoning post rinse.
24 hr cure time, 1 hour drying time, 2 to 2.5 hours smoke time in Big Chief, SV at 147° for 90 minutes then icy bath for any not eaten hot.