413
204
Joined Dec 23, 2016
So i decided i wanted a dutch oven and to try some chile and beef stew in. Bought a 5 qt. And seasoned last night with lard, 1.5 hours running around 425. Built me a tripod this morning, about 15 dollars invested.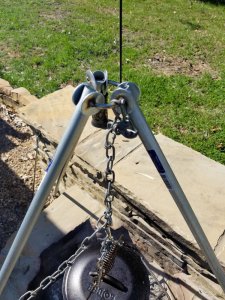 Chopped up left over brisket from last sat. about a pound +, chopped up purple onion, half pound sausage and into pot over fire pit. While that's cooking I mix up tomato juice, black, kidney, and chili beans with chili starter package . Add little garlic powder, black pepper , and red peppers flakes. Drain the meat put everything in pot over good bed of coals. Hour later try a taste and add chili powder. Hour later wife and daughter decide to go to town. Daughter comes out with a bowl and asks for some .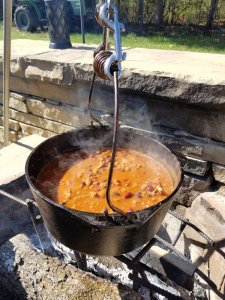 Few minutes later wife comes out "I want to tell you something", I'm thinking D has pissed her off or something. "That is the best chili I've ever had, the left overs are going to work with me tomorrow ". Some of you are thinking big whoop, wife pretty much tolerates chili, one meal and done. So hubby is proud tonight.