Master of the Pit
OTBS Member
SMF Premier Member
1,470
1,378
Joined Mar 8, 2017
Ok this is a family recipe that has been around for years and years. Over the weekend I was thawing out a big 5lb bag of shrimp to make room in the deep freeze. We initially planned to fry these shrimp and do po-boys, but decided on this at the last minute.
For those of you unfamiliar with New Orleans style bbq shrimp, it's a very popular dish around here, but it's not actually bbq. It's a sauce made and then baked in the oven with the shrimp (traditionally head-on) and then simply served with French bread. The combination of shrimp, French bread and that sauce is out of this world.
I'm sure there are Many recipes floating around, and several that claim to be the best. But this is the exact recipe I grew up on, and everyone flips out over this sauce.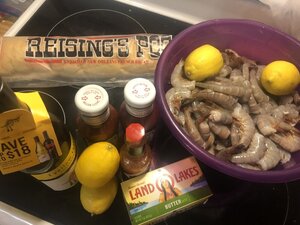 The recipe is surprisingly simple, and doesn't take long to make. The key is fresh shrimp and fresh French bread.
Recipe calls for 3lbs of fresh head-on shrimp & one loaf of French bread.
The Sauce:
3 sticks of butter, 2 TBS La. Hot Sauce (or Tabasco), 2 tsp salt, 2 tsp paprika, 1 tsp Oregano, 3 tsp parsley, 1 bottle of Heinze chili sauce & 1 cup white wine. You basically warm your butter to the point that it's melting, over medium heat. Then you add your dry ingredients and stir well. Then add chili sauce and white wine. You want to remove that from the heat and then pour it over the shrimp. Now the ones I used were frozen, but we get them right off the boat, de-head a bunch and freeze them. I made an exception this time because I really wanted to make this recipe. Once you incorporate the sauce throughout the shrimp, add your sliced lemon to the top and let stand for one hour. Then you simply bake in a 350 degree oven for 30-40 minutes depending on size. Stir occasionally.
Here is a pic of the shrimp I used and the pan, which was a little small. But this was a 5lb batch of shrimp. Also, I ended up just using the sauce amounts for 3lbs of shrimp, and it was more than enough.
Here is my sauce poured all over the shrimp, ready to marinate on the counter for one hour. The sauce has some warmth to it, so it's normal for the shrimp to pinken up a little. But the sauce should cool quickly and will actually firm up a bit while it stands.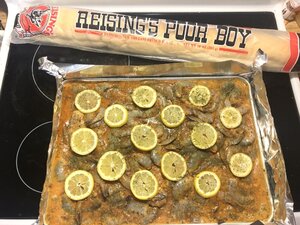 Ready for the oven. I stirred twice over the span of 35 minutes, and after testing one, these were all ready!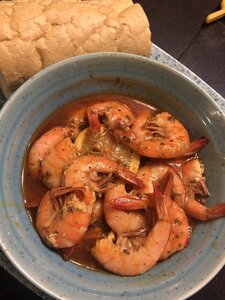 The money shot! It tastes even better than it looks. Now what you wanna do is make sure and have a lap full of paper towels bc it's messy. But you take your shrimp and suck on em a bit, get that sauce off the shell, then you peel a few shrimp, throw em in the sauce, then grab a pull off the French bread, stuff it with those shrimp, and dip-and eat!!! It has to be one of my absolute favorite traditional New Orleans cuisine.
Last edited: