Epic Pitmaster
Original poster
OTBS Member
★ Lifetime Premier ★
Dec 14, 2013
13,897
11,478
Had a couple new items at GFS last week . One was a 14 pound pack of " Beef chuck flat " . Wasn't real sure what it was , but $3.99 a pound , and it says chuck .
So I grabbed one . Also bought a whole pork shoulder . At a buck 19 they made me buy it . That's a story for later ., but had to deal with it first because it was at date .
So did some research on chuck flat . Came across boneless beef rib . Fine by me .
So got it out yesterday and opened it up . Noticed it was select . That don't bother me . I can deal with that . There's a high and low end of all the grades . Some of these had real nice marbling . A couple were on the leaner side .
Got set up and trimmed and cleaned them .
Comes packed like this .
First one trimmed up .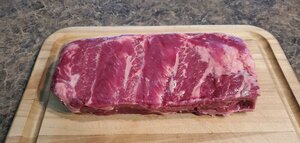 One down , 3 to go .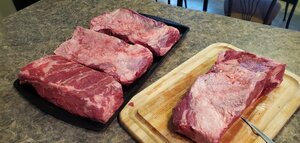 Cleaned up real nice . I'm pretty happy with this .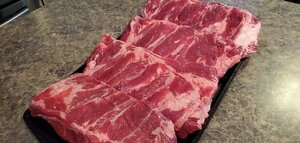 I cut 2 in half , left one whole , and vac'd them up .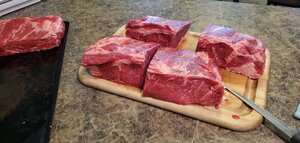 I sectioned the last one out for supper .
I used to spend all day working in this weather . Now that I have a choice , smoked will have to wait .
Stayed inside and grabbed the dutch oven .
Floured up the hunks and browned them in olive oil .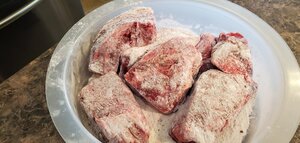 Did it in 2 batches so they don't steam . Pulled and resting while I add a half onion and a carrot .
Veg added just to flavor the sauce .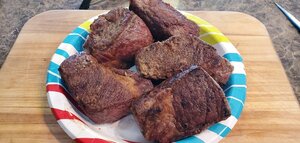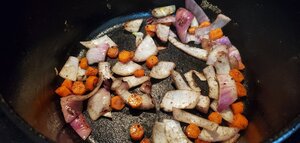 Got things together for the braising liquid . Lipton soup mix . Red wine and the Andria's
steak sauce . That Andria's is some good stuff . Comes from the east side in Illinois .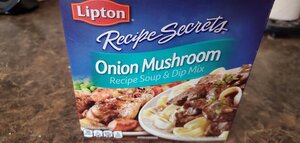 Stone hill is a Missouri winery . I drink their wines .
I cook with what I like . Never had Ozark hellbender .
The name brings back some memories .
Ad the wine to the hot pot , and let it cook out .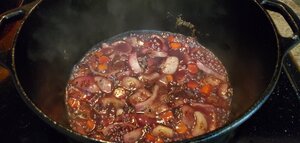 Put the beef back in and add the soup and steak sauce mixture .
Then add garlic and some rosemary .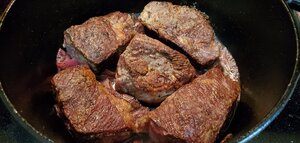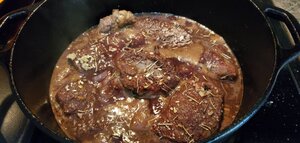 Put the lid on , and into a preheated 350 degree oven .
I don't time these things out . I'll smell it when it's ready .
I was downstairs working on a cutting board , and got a whiff of something really good .
I'm guessing it was around 3 hours later .
Sauce was reduced by half and the beef was super tender , but not falling apart .
Perfect . Turned the oven to 170 . Lid on and back in the oven 'til time to eat .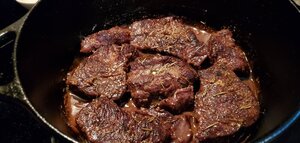 Had some store bought yeast rolls I needed to use up . Made some mashed potatoes .
I don't use milk . Just butter and sour cream .
Son makes the greens beans . Bacon , beef base and dry Italian dressing mix .
This beef was fantastic . The dutch oven braise is the way to go for this type of meal .
Reduced sauce on the beef . Store bought gravy on the taters .
Smashed own with my fork .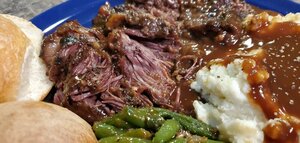 Perfect meal for a cold day . Be looking forward to putting some on the smoker .
26 " kettle and some mesquite .
Thanks for looking .
Oh , boned out the oink . Got a ham curing from the picnic .
Couple pound hunk for BBB . Rest cubed up and frozen for sausage .