Smoking Guru
Original poster
Recently

tx smoker
posted another one of his creations that really got my attention, and since I really liked his Ranchero sauce I had to give it a try. I made a couple of changes from his procedure. After visiting three Mercados I found everything but Pasilla powder.
I wound up getting dried Pasilla peppers. Chopped them small and "ground" them a bit. I had a taste and was amazed at how sweet they are.
Aside from that, the only change I made to Robert's spice mix was to add a tsp of Cumin.
He used Ribeye but I used Eye of Round that I had rotisseried but let it get a little too done. Diced it up small and simmered it in Beef Broth and the spice mix until the liquid cooked out. It tenderized nicely.
Then I spread the tortillas in the C.I skillet, spread the re-fried beans and started layering, using Quesadilla for the cheese.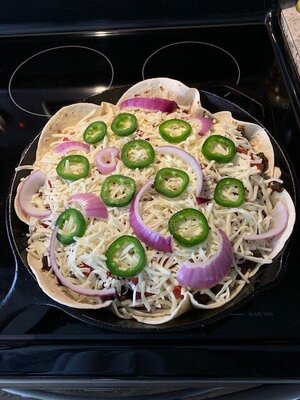 Then into the oven at 350 for about 20 minutes.
We both loved it and had it two nights in a row. Wish I'd made some Spanish Rice to go with it. Next time, and there will be a next time!
I got a small box of Sazon Goya, but after looking at the ingredients, it seems to be MSG with some Garlic, Salt and Cumin. I have nothing against MSG and use it, but I felt Robert's spice mix didn't really need anything else (except for the Cumin ;-).
Another shout out to

tx smoker
for the idea! This is actually more fun than a regular pizza because I don't have to make the dough.
Thanks for looking, and keep trying new things!
Dan