Master of the Pit
OTBS Member
SMF Premier Member
★ Lifetime Premier ★
2,668
3,156
Joined Dec 1, 2019
I'm not sure how many people do this South American style of grilling, or have been to a Brazilian restaurant with the gaucho style servers and all the grilled delicacies, but about 15 years ago an online cooking buddy ordered some skewers from somewheres in South America, and gifted a few of us. The ones I have are the traditional 'V' shaped blade, but are only long enough to use on my small Big Green Egg or my Mini
WSM
or a campfire.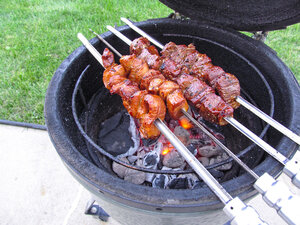 A week or two ago I got a link from another skewer lover to a US branch of
COMPANY
that sells similar skewers, but these are long enough to work on my large BGE so I thought I'd share. The 'small' are 3/8" wide (the same width as above) the 'medium' are 5/8" wide and the 'large' are 7/8" wide. I bought 5/8" and 7/8" with plans to gift some at Christmas.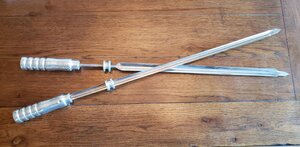 These are around 29" overall, with about an 18" cooking area on the blades. The little rollers are for a restaurant rotisserie and are fixed, the handles are aluminum.